Home
›
PEx News and Tech
›
Local and Foreign Issues
COMMUNITY NOTICE: If you are having trouble in your account access, please do send us a message at
[email protected]
for assistance.
Philippine Stocks Enter Bear Market and More Pain May Be Ahead
buddyw
Member
PEx Influencer ⭐⭐⭐
Philippine Stocks Enter Bear Market and More Pain May Be Ahead
Philippine Stock Exchange Index slides for sixth straight day

Rate hike unlikely to stop peso's weakness, BDO Unibank says

The Philippine central bank needs to do more to help stocks recover from a slump that has pushed them into bear market territory and made them Asia's worst performers this year, according to investors.
The Philippine Stock Exchange Index sank 2.3 percent on Thursday, leaving it down more than 20 percent from its January peak.
Fritz Ocampo, who manages about $19 billion as chief investment officer at BDO Unibank Inc. in Makati, said the central bank's second interest rate hike this year on Wednesday will fail to fuel a sustainable rebound in stocks because it's not enough to fully arrest the local currency's slide, as inflation has yet to peak. The Philippine peso has lost 6.7 percent this year, the biggest drop among Asian currencies.
"The market needs a clear announcement to calm nerves," Ocampo said. "We may have not seen the bottom yet. Any rally could be short-lived because international investors are unwinding out of emerging markets."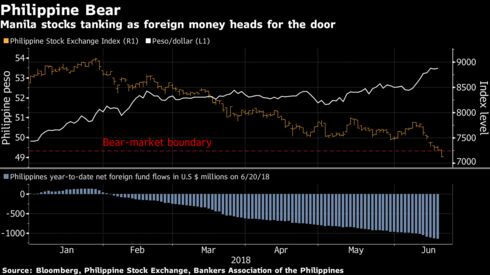 Over $43 billion in market value has vanished this year as the benchmark slid more than 17 percent, the world's worst performer after Turkey. From its record close on Jan. 29, the Philippine Stock Exchange Index has slumped 22 percent, breaching the 7,246.90 level that marks a bear market. It closed at 7,098.15 Thursday, a seventeen-month low.
"Investors are still jittery," said Manny Cruz, analyst at Asiasec Equities Inc. in Manila. "The foreign selloff remains relentless as the rate increase hasn't provided a catalyst while prospects escalated that a trade war will erupt between the U.S. and China."
Today's selloff drove Philippine stock index valuations to 15.3 times projected 12-month earnings, its cheapest level since Jan. 26, 2016, and down from 19.9 on Jan. 23. The multiple is more than two standard deviations below its five-year average, a level that preceded rallies in 2013 and 2016.
If the index eventually rallies, its climb may be limited to about 7,600 as it mimics last month's pattern, Ocampo said. The index rose over 300 points in two sessions after the May 10 hike and then went southbound as inflation accelerated and the peso slumped to a 12-year low against the dollar.
Investors think another 25 basis point hike may be needed this year to keep inflation in check and stem the peso's depreciation, Ocampo said. Wednesday's rate increase may not be enough to keep up with the Federal Reserve, which has indicated that it may lift as many as four times this year, he added.
The latest central bank hike didn't prevent the iShares MSCI Philippines ETF from falling 1.5 percent overnight in the U.S., its 10th straight day of declines and longest losing streak since June 2013. More than $51 billion in market value has been erased since share prices declined from the peak in January.
Foreign fund withdrawals, which reached $1.14 billion so far this year, could climb to $2 billion by December unless the exodus slows, Ocampo said. He is overweight property companies because of strong residential sales and project launches. Retailers are also attractive as they can pass on the higher cost of goods.
All but four of the 30 components of the benchmark stock index fell in Manila today led by phone operator PLDT Inc., which slumped 6.5 percent, and largest Philippine builder SM Prime Holdings Inc., which declined 4.6 percent. SM Investments Corp., the gauge's biggest member, fell 1 percent.
"Foreign funds outflow isn't showing signs of letting up," Ocampo said, adding that the index could test 7,000 in the near term as the selloff may escalate before the benchmark recovers to 8,500 by year-end. "Cash is king for now."
Leave a Comment