Home
›
PEx International Entertainment
›
Movie Reviews
Speak your mind, but mind what you post. Let's not spread disinformation and/or misinformation.
REVIEW: Jurassic World Dominion [2022]
PEx_Movies
Administrator
PEx Moderator
From interesting locations and sets to endlessly-thrilling sequences, the movie does more than satisfy.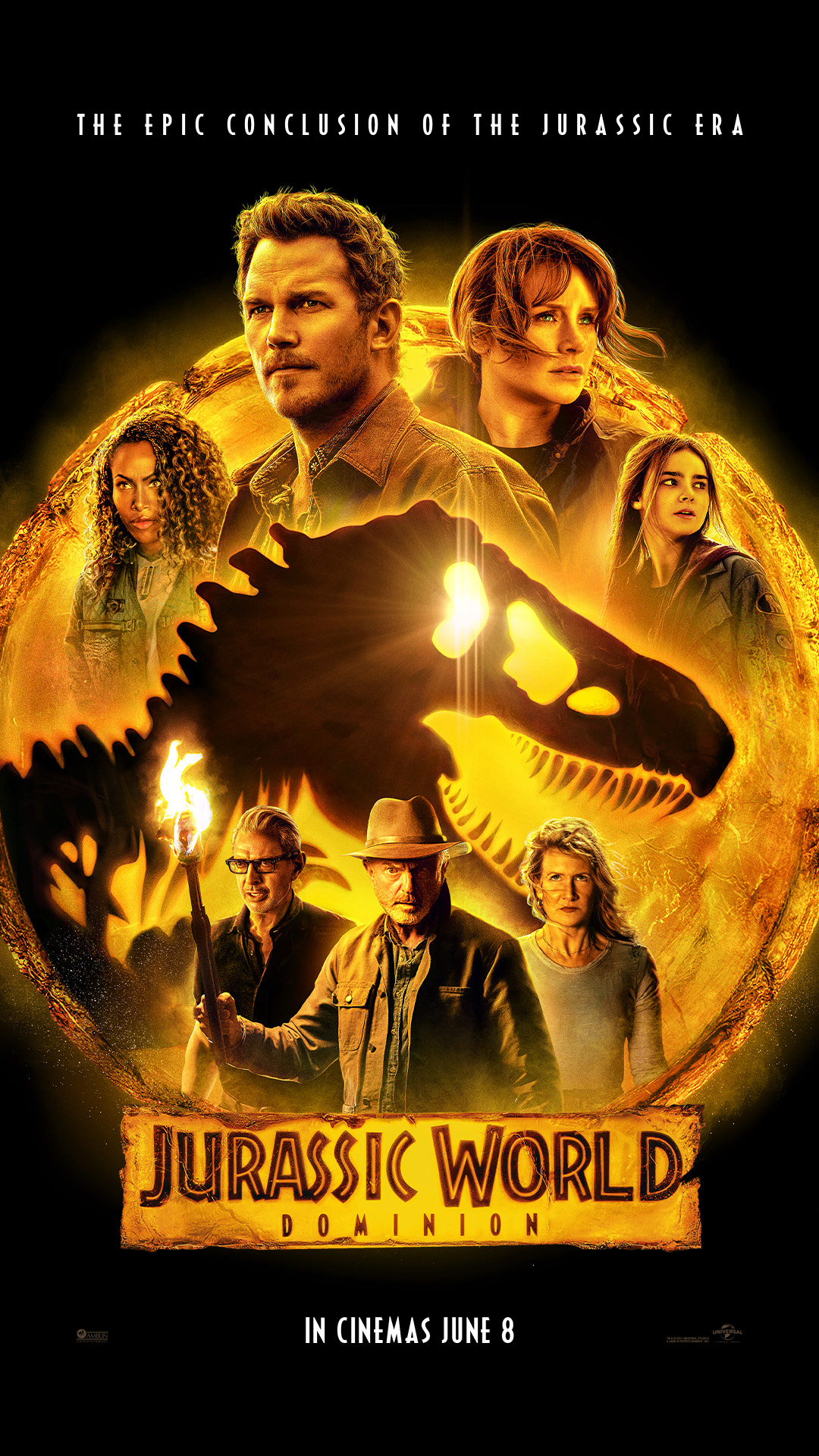 PEx Reviewer: @benchboy
Photo Credit: Universal Pictures International
After three Jurassic Park and another three Jurassic World films, are we really seeing the Steven Spielberg-branded dinosaurs do their final romp across the theater screens this year?
When it's touted as the 'epic conclusion' to the highly successful movie franchise, it does sound like Jurassic World Dominion ought to be THE film event for 2022—for both the 90s teens and kids who couldn't get their amazement contained with the first trilogy and those who got acquainted with the no less astounding Chris Pratt-starred installments first released in 2015.
With materials being repackaged or reintroduced in Hollywood more often recently though, we can never be certain whether it's really going to be the final chapter in the storyline. But on whether it's epic enough to qualify as a shouldn't miss, definitely we can dish out something there.
To start off, if the viewer is after wonder-inducing visuals, there'd be no contest that Jurassic World Dominion, as with the other Jurassic movies before it, delivers well in that department. From interesting locations and sets to endlessly-thrilling sequences, the movie does more than satisfy. So props should rightfully go to the director, Colin Trevorrow (who also directed Jurassic World), as well as the production designer.
Of course, there's the obligatory scenes depicting the dinosaurs' ferocious tendencies as well as their tamed sides. But you just won't see them in a forest setting: here they're also in the ocean, in snow-covered landscapes, as well as in the sky. Still, as versatile as they are, the protagonists would always seem to find a way to avoid being their prey: one exciting highlight I'd like to mention is Pratt's motorcycle-riding stunt around the streets of Malta as he's chased by dinosaurs and how he ends up safe and whole inside an aircraft.
I'm perfectly okay to suspend disbelief there, but my main beef with this sequel is its plot structure.
See, there were two main sets of characters in the film who end up going on distinct missions as part of the story: Owen (Pratt) and Claire (Bryce Dallas Howard) who have to rescue Maisie (Isabella Sermon), their adoptive daughter who was abducted for having a unique DNA; and Dr. Sattler (Laura Dern), Dr. Grant (Sam Neill), and Dr. Malcolm (Jeff Goldblum), who have decided to join forces to prove that the biotech company that's also been tasked to do research on dinosaur genes as key to curing human diseases is also behind the mysterious proliferation of a breed of locusts that's destroying crops everywhere. They set out on these tasks independently in the beginning, but somehow end up reunited towards the latter part of the film, obviously a way to subliminally make the audience remember the earlier Jurassic Park productions (which Dern, Neill, and Goldblum were all part of).
I honestly found the conflicts to be disappointingly conventional. I get it that this last Jurassic movie is still packaged as a family material, but personally I wish they were more imaginative in coming up with the story for this one. Those new to the franchise, however, don't need to be acquainted first with what happened in the previous film as there are sufficient details provided in order to follow Jurassic World Dominion's plot, specifically as to the significance of Maisie's character and how she's connected to a special dinosaur in the movie.
I'm also a bit curious regarding the addition of two new characters in the film who both played crucial roles in the protagonists' missions – they're both black so I suspect it was a diversity trope.
We've seen the main themes—illegal wildlife trade, genetic manipulation, teen rebellion—depicted in other movies before. More so the various ways gigantic predators can attack and terrorize humans. When it feels like we've seen everything before, perhaps it's time for the velociraptors, T-Rexes, and giganotosauruses to retire. They'll be missed for sure, but perhaps, it's time to imagine another prehistoric era for the next generation.
Rating: 8.5/10
Check out the official discussion
here
.
Tagged: