Home
›
PEx News and Tech
›
Local and Foreign Issues
The Duterte wealth: Unregistered law firm, undisclosed biz interests, rice import deal for creditor
buddyw
Member
PEx Influencer ⭐⭐⭐
The Duterte wealth: Unregistered law firm, undisclosed biz interests, rice import deal for creditor
President Duterte and his children Sara and Paolo separately and together offer token or opaque data that, under the law, they are required to reveal in their SALNs
MANILA, Philippines – Rich man, poor man, Mayor, President.
Back in 15th century England, this was how a traditional nursery rhyme and fortune-telling game ran. Later in the United States, it became a popular counting song of children playing tag as they called out who would be "it." In the Philippines today, it could well be the riddle that is the state of wealth of the President's family.
Honesty, full and unvarnished, is something that one could wish of the Dutertes, or more than the data that they have disclosed in their asset records.
On several occasions, President Rodrigo Duterte has claimed that he was born into poverty. Yet at other times, he has boasted that he was raised in wealth.
Is the President honestly poor or honestly rich? The disclosures in his asset records across 20 years are woefully inconsistent, or less than fully open.
Daughter Sara, Davao City mayor, and son Paolo, resigned Davao City vice mayor, are similarly ambiguous in the declarations they have made under oath in their respective Statements of Assets, Liabilities, and Net Worth (SALN) across 11 years.
Token reveal
Checked against records of the Securities and Exchange Commission (SEC) on the businesses they declared they own or have interests in, the President, Sara, and Paolo separately and together offer a muddled mix of token or opaque data that, under the law, they are required to reveal in "truthful and complete" SALN submissions.
Such requirement is aimed in part at surfacing any possible conflicts of interest that public servants may have gotten themselves into. Faced with the apparent lack of pertinent data and details in the Dutertes' SALNs, PCIJ reviewed not only SEC documents on their business interests, but also provisions of relevant laws. Legal experts and other sources were also interviewed.
Among the findings are:
The Carpio & Duterte Lawyers entity, which has Sara and husband Manases "Mans" R. Carpio as partners, was born over 10 years ago but has not registered at all with the SEC, as of this posting. The Supreme Court and the Local Government Code prohibit mayors and governors from practicing their professions, but Sara has not formally, publicly declared her leave of absence from the firm. Since 2016, however, Manases has appeared as legal counsel to big companies with big cases before government regulatory agencies. Last March, the firm opened a branch office in Cebu, its second after Davao City.
Duterte, Sara, and Paolo have either a) belatedly disclosed their interests in certain companies; b) remained listed in some other companies as shareholders but kept these undisclosed in their SALNs; or c) remained part of certain companies not at all registered with the SEC or the Department of Trade and Industry.
The President and Paolo have separately listed several "donated" real properties but do not identify their donors by name, to validate their donors' potential or real conflicts of interest with their public functions.
The Dutertes have reported "liabilities" in their SALNs as "various personal loans" (Sara) or "personal loans" or "miscellaneous payables" (Duterte, Paolo) that they owe Davao City-based businessmen who are apparently among their business partners and campaign donors.
For 10 years running from 1999 to 2009, the President's SALNs showed unchanged liability he called "miscellaneous payables" of an absolute P1 million. By 2013, he renamed this liability "personal loan" – from creditor "Sammy Uy."
Creditor, biz pal
In his 2013 SALN, Paolo said that he got a P3-million loan from Nestor Ma, owner of the "San-Ei Group of Companies" that reportedly owns the San-Ei Building in Ma-a, Davao City, which had served as the national headquarters of the "Duterte for President Movement" in 2016.
Four years later in his 2017 SALN, Paolo said that he still had a "personal loan" from Ma amounting to P2.2 million.
Soon after Ma was appointed Philippine Judo Federation (PJF) chairman in 2016, the businessman offered a part of his 1,000-square-meter building along Ma-a Diversion Road as the new training center for judo and office of the Philippine Sports Commission-Philippine Sports Institute (PSC-PSI).
A SunStar report quoted Ma as saying that the center will accommodate all judokas not just in the city, but also from the entire region, starting 2017.
Meanwhile, the Bureau of Plant Industry (BPI) in 2017 granted Ma's Davao San-Ei Trading Inc a certificate of registration as an importer of rice covering a 3-year period, or from March 15, 2017 to March 15, 2020.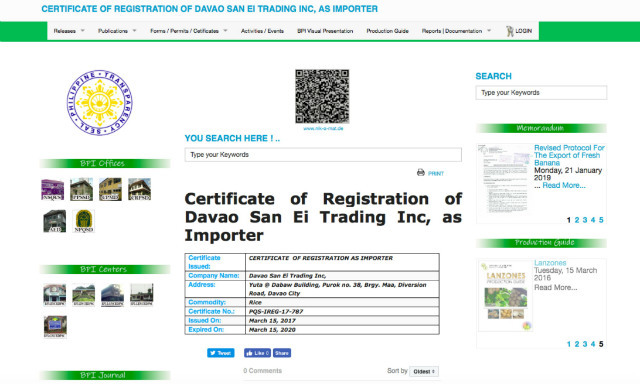 CERTIFICATE. The certificate for Davao San-Ei Trading Inc. Screenshot by PCIJ
In his LinkedIn profile, Ma said that he is president of Davao San-Ei Trading Inc, which does not seem to have prior involvement in rice importation. On its Facebook page, the firm said that it is engaged in "transportation, trucking, and railroad" services, and is a "direct importer, Japan & U.S.A surplus, light and heavy equipments (sic), light & heavy vehicle."
The databases of both the SEC and DTI do not show any registration or other corporate documents for Davao San-Ei Trading Inc. Two other companies where Ma is listed as president and stockholder have records as of 2018 and 2019 with the SEC: Mindanao Allied Industrial Mining Sales (MAIMS) and Davao Rental Co Inc (Davrenco).
The President, for his part, could have confirmed or denied whether the Sammy Uy he identified as his creditor is the same Davao businessman Sammy Uy who donated P30 million to his presidential campaign in May 2016.
Businessman Uy runs a cockpit that counts some local officials and some police and military officers as patrons. SEC records also show that Uy and Duterte are incorporators and shareholders, since 1996, of Honda Cars General Santos Inc. Duterte, however, was 4 years late in reporting that he was an incorporator of the company; the information appears in his 2000 to 2016 SALNs, which say nothing about his being among its shareholders.
Not registered
As for Mayor Sara, among her apparent holdings is a law firm she had set up with her husband months after they were married.
While it has not registered with the SEC, the "Carpio & Duterte Lawyers" entity was organized in 2008, according to Manases' public profile on LinkedIn. In her 2008 SALN, Sara had also put Manases as a "Law Office Partner" in the "Carpio-Duterte Law Office."
In her 2011 SALN, the reference to the firm was changed to "Carpio Duterte Lawyers." The law firm, however, has yet to appear in Sara's SALN declarations as among her business interests and financial connections.
Carpio & Duterte Lawyers is a hugely opaque matter in the Dutertes' wealth records particularly because it has recently shown an appetite for big corporations with big controversial cases before government regulatory agencies.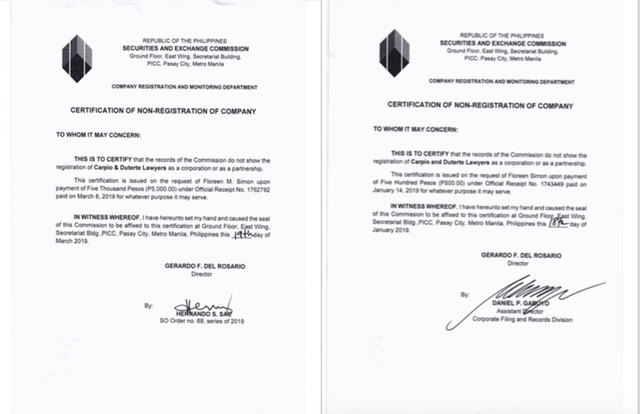 NOT REGISTERED. SEC certifications on the law firm.
PCIJ has secured a dozen written certifications from the SEC that the Carpio & Duterte Lawyers and 11 other possible derivative names (i.e. Carpio Duterte Lawyers, Carpio Duerte Law Office, etc.) are not registered entities at all as of this posting.
What sources in legal circles now call "The Firm" of note and influence under the Duterte administration lists Sara as a "partner" together with husband Manases Carpio in press releases and advertisements.
Leave a Comment