Home
›
PEx International Entertainment
›
Movie Reviews
REVIEW: Escape Room [2019]
PEx_Movies
Administrator
PEx Admin
Thrills and train of thought escape from the traps of Escape Room.


PeX Reviewer:
pabzicles
PeX Rating: 6/10
Photo Credit:
Columbia Pictures
It is hard not to be captivated by Escape Room, just like the place where it is named from, it offers game thrills in solving a series of puzzles and riddles by using clues and hints. But unlike the entertaining escape places worldwide that offer no danger and people can go easily after unable to solve the challenges at hand, Adam Robitel put the lives of its characters at stake making the players' enjoyment turns into horror. Its writers Schut and Melnik somewhat got the idea as escapees from the cubic labyrinth of 1997's Cube and tried to put a spin on it by infusing elements from famous horror franchises such as Saw and Final Destination. But just as those franchises that tried to initiate consecutive installment at the endgame, its end is rather forced than natural.
It follows six strangers from different walks of life namely Zoey (Taylor Russell), Jason (Jay Ellis), Ben (Logan Miller), Amanda (Deborah Ann Woll), Mike (Tyler Labine), and Danny (Nik Dodani) who each receive an invitation from Minos Escape Room Facility to participate in game of escape and win 10,000 dollars. What starts out as enjoyable game turns into a deadly one and the group must use every skill they have to unlock every room or die.
Escape Room heavily borrowed its premise from Canadian 1997 film Cube. For one, it features strangers that must escape from industrial cube-shaped rooms. But unlike Cube, its characters are drawn into the maze by sharing the same incident - escaping death, the element borrowed from Final Destination. Its characters Zoey, Ben and Jason have familiarity from Cube characters Joan, David, and Quentin respectively.
The film's first act is tedious and introduces us to characters Zoey, a shy physics student and stock boy Ben whom even at the start of the film they become an instantly likable character. Danny on the other hand is your usual geek guy and a bit irritating at times, helps us to understand the concept of escape rooms. As it shifts into its second act, the film begins to be engaging and you can't help yourself to participate in solving every puzzles and riddle. Robitel ensures that every clue in the room will be highlighted to give room for his audience and his characters to think for themselves. Add to that, is its well-placed shots which is hard to do in a confined space.
But I think what makes this film worth watching is its diverse cast. The acting is your usual horror films acting qualities but each character represent an intriguing background. But if there is one actor that stands out, it is Logan Miller's restrained performance. Aside from unlocking every well-thought and well-designed mystery rooms, the story give flashback to its characters. These flashbacks helps greatly for us to be empathic on them even the unlikable ones except for Jason who is a real egocentric. The feeling I have for Jason is resonant to what I have for Quentin at Cube.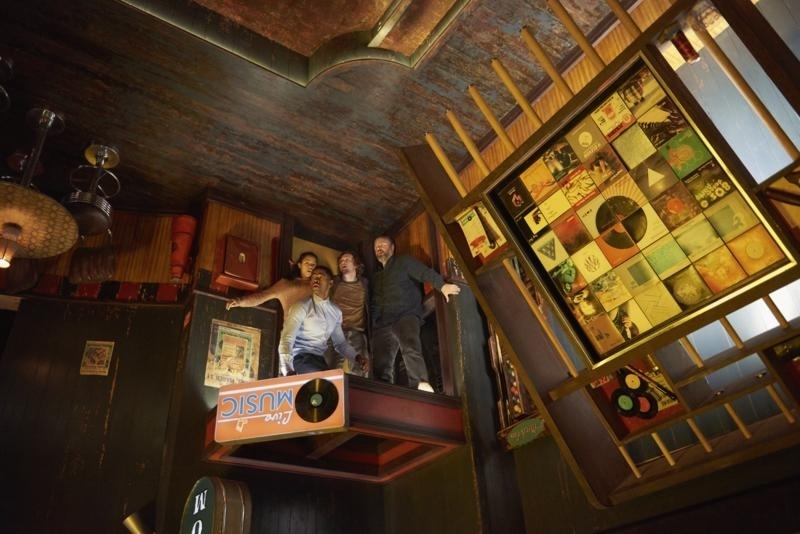 Unlike other thriller films that highlight booby trapped violence and gory deaths, Escape Room relies less on it but makes each death unpredictable and painful for its viewers. For most parts, its creativity as a psychological thrillers notably shines through its use of names such as Minos and adding Petula Clark's song Downtown when they are in inverted room and a lot more. But as we've got into its endgame, the writers chose an easy escape by showing morally twisted people behind it just like Saw. The third act becomes preachy and lengthy serving as a setup to its eminent sequel(s). By putting multiple traps throughout, the movie itself falls for it, giving us a feeling that we better not know cause knowing destroys what it is building. How I wish that it better ended ambiguously.
Overall, Escape Room serves what we expect from a psychological thriller. It is enigmatic and mind stimulating as if you are solving a complex puzzle and manages to provide thrills. A palatable break from series of supernatural horror films like the Conjuring universe best enjoyed if you choose to ignore its less satisfying endgame.
Columbia Pictures presents an Original Film production,
Escape Room
.
Starring Taylor Russell, Logan Miller, Deborah Ann Woll, Jay Ellis, Tyler Labine, Nik Dodani, with Yorick van Wageningen. Directed by Adam Robitel. Produced by Neal H. Moritz and Ori Marmur. Screenplay by Bragi Schut and Maria Melnik. Story by Bragi Schut. Running Time: 1 hour and 40 minutes; MTRCB Rating: R-13.
#EscapeRoomMovie opens in PH cinemas Feb.27.

Check out the official discussion thread here: Escape Room
Tagged:
Leave a Comment