Home
›
PEx International Entertainment
›
Movie Reviews
REVIEW: Spider-Man: Into the Spider-verse [2018]
PEx_Movies
Administrator
PEx Admin
"With great power comes great responsibility -- the Spider-Man films so impart."
PEx Reviewer: @benchboy PEx Rating: 9/10Photo Credit: "Columbia Pictures.
"
With great power comes great responsibility -- the Spider-Man films so impart. But when it comes to serving up yet another Spidey-hero narrative in the big screen, how else can you excite webheads and non-fans alike, since with immense familiarity comes greater-than-great expectations?
Going by early feedback, it seems the producers of Spider-Man: Into the Spider-Verse have come up with the perfect formula.
Currently with a 99% rating on Rotten Tomatoes, and highly touted as a frontrunner in the Best Animated Film category in the Oscars, Spider-Man: Into the Spider-Verse introduces us to Peter Parker's heir apparent Miles Morales (voiced by Shameik Moore), an African-American/Puerto Rican teen who lives with his family in Brooklyn, New York. It follows his adventures and struggles initially as a son and student and later on as someone tasked to save his city and colleagues in the Spider-verse from Kingpin and his nefarious intentions.
What's most awe-drawing about the movie is unarguably its vibrant visuals, which is inspired by classic comic-book texture and design. Hand-drawn animation techniques are said to be employed together with state-of-the-art computer graphic animation tools in this film to up its illustration quality and make every frame extra refined. The editing in some of the sequences, though, can be overwhelming and cause the viewer to be disoriented, but I guess it comes with the stylized approach.
The soundtrack is not to be missed, too, but personally what's most powerful about Spider-Man: Into the Spider-Verse is its message. The line "what makes you different is what makes you Spider-Man" or in effect, a superhero, a somebody, can be empowering indeed. It's also worth quoting Peter Parker's response to Miles when the latter asked how he knows he's become Spider-Man: "You'll never know. That's all it is, Miles, a leap of faith." Truly, realizing your potential to be a better version of yourself starts with believing you can really be somebody better. And to most of us self-doubters, it may require an enormous amount of faith.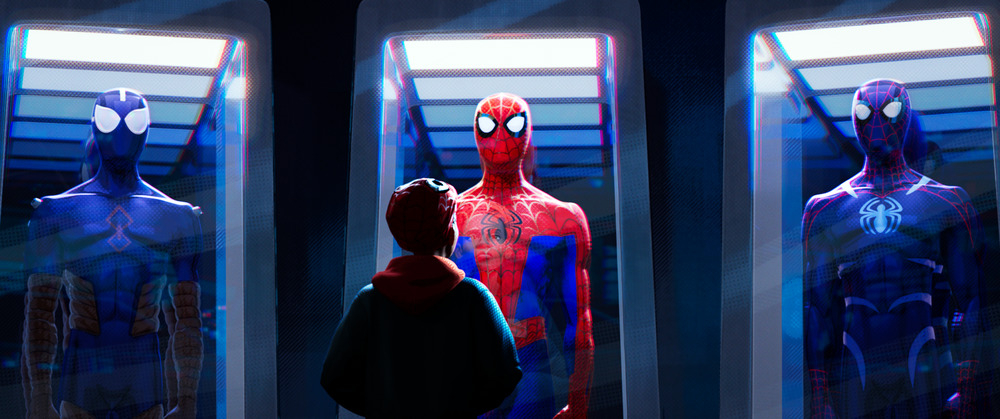 Aside from the writing, the characterization likewise makes the material very engaging and even relatable. You have a loving dedicated policeman father, a funny speaking animal, a paunchy Peter Parker, a 1930's Spider-Man (voiced by Nicolas Cage) -- you even get to understand the villain's motivation in launching a super collider that caused the other characters in the Spider-verse to be in the present time dimension as Miles.
Having touched on the plot, I'm just not sure whether this multi-dimension angle is kid-proof, so I guess the parents/adults ought to bear the task of explaining this when watching with kids. It's a pity this will be shown same week as Aquaman. But hey, with good options comes good dilemmas, right?
Spider-Man: Into the Spider-verse, now showing in cinemas!
Leave a Comment