Home
›
PEx Local Entertainment
›
Showbiz - Movies
Viva Films: NUUK (Aga Muhlach & Alice Dixson)
kyupayb
PEx Influencer ⭐⭐⭐
LOOK: Aga Muhlach and Alice Dixson are shooting their movie in Greenland
by Jocelyn Valle posted on April 28, 2018
IMAGE Courtesy of Renacelle Cruz-Punzalan
Aga Muhlach and Alice Dixson are reunited for a movie project after 27 years.
---

Aga Muhlach and Alice Dixson are currently in Nuuk, the city capital of Greenland, filming a movie whose story is set in that chilly European country.

They have been in Nuuk since the second week of April and will stay there until the second week of May.

Their still untitled movie is a joint venture of Viva Films and Misschief Productions under the direction of Veronica "Roni" Velasco.

Prior to this project, Aga and Alice worked with each other for these two films: Hot Summer (1989) and Joey Boy Munti (Batang Ama) (1991). 

Aga was last seen in the family drama Seven Sundays, which was released in October 2017. 

A month later, Alice was seen in the horror flick, The Ghost Bride, which was top-billed by Kim Chiu.

Direk Roni's first two directorial jobs, Inang Laya (2006) and Maling Akala (2007) had Pablo Biglang-Awa as co-director.

She went solo at the helm of Last Supper No. 3 (2009), I Do (2010), Tuhog (2013), and Dear Other Self (2017).



image: https://contents.pep.ph/images2/2018/04/28/PEP-Aga-Muhlach-Alice-Dixso.jpg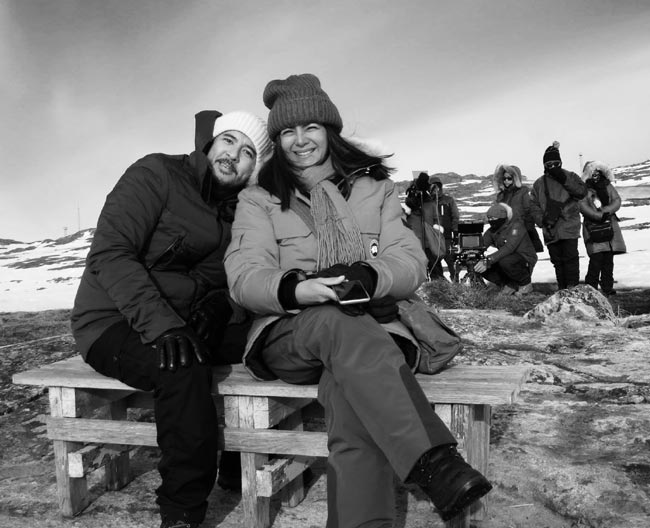 IMAGE Courtesy of Renacelle Cruz-Punzalan
Read more at
https://www.pep.ph/guide/movies/27835/look-aga-muhlach-and-alice-dixson-are-shooting-their-movie-in-greenland#vk0wFjjEsWYbcmz0.99