Home
›
PEx News and Tech
›
Local and Foreign Issues
COMMUNITY NOTICE: If you are having trouble in your account access, please do send us a message at
[email protected]
for assistance.
Is he going insane?
ArnoldZ
Member
PEx Influencer ⭐⭐⭐
Duterte says he 'invented' Trillanes bank account number in interview
(3rd UPDATE) '****** ina, akin 'yan, galing sa utak ko 'yan,' says President Rodrigo Duterte about the DBS bank account number he mentioned during a previous interview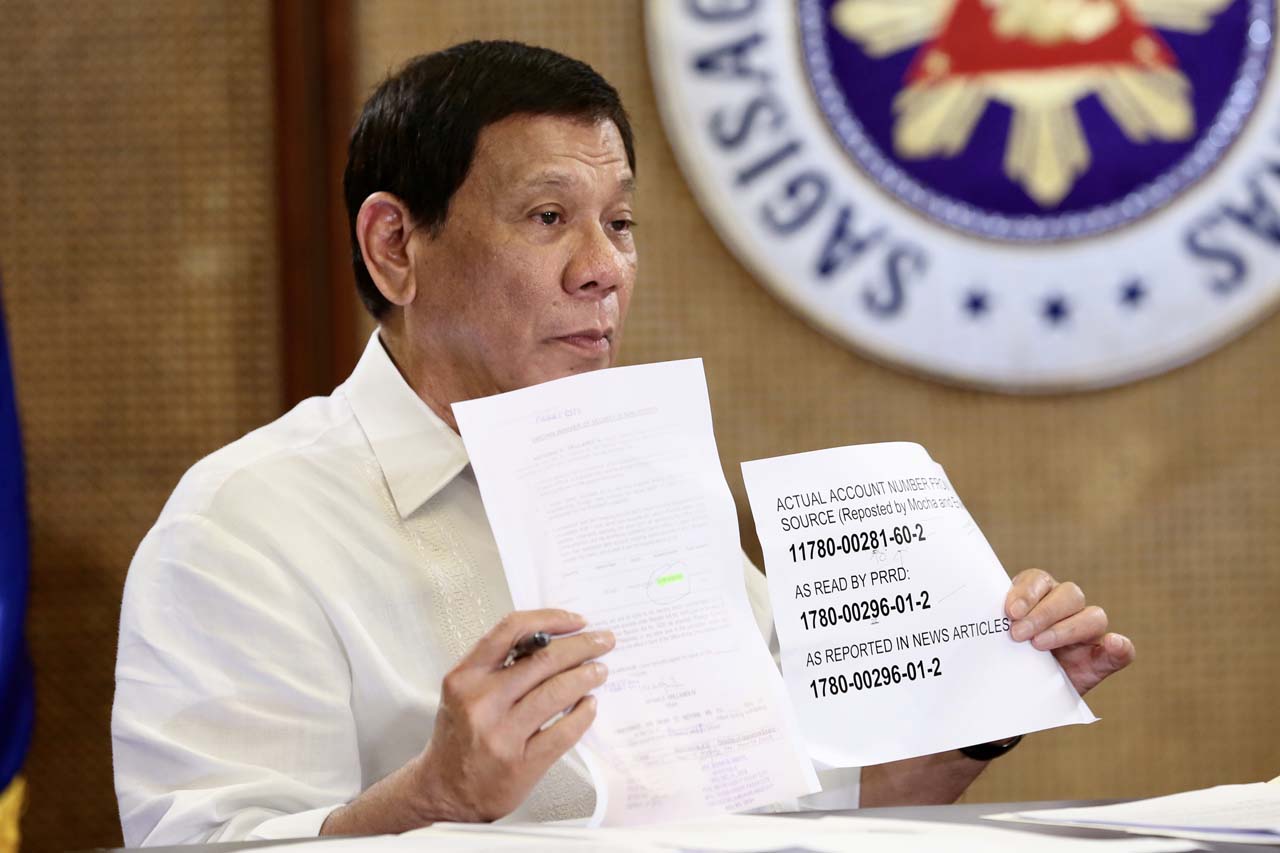 TRAP' FOR TRILLANES. President Rodrigo Duterte holds up a paper comparing the 'actual' bank account number of Senator Antonio Trillanes IV and the bank account number he 'invented.' Malaca?ang photo
"'Yung imbento ko na numero, ****** ina, akin 'yan, galing sa utak ko 'yan," said Duterte on Tuesday, September 19, during a second PTV interview with Erwin Tulfo.
(That number I invented, son of a *****, that's mine, I made it up.)
The President made fun of how Trillanes was tricked into using that made-up number in his request for a bank certification earlier that day.
"Kinopya niya ang inimbento ko, anak ng patuteng ka (He copied what I invented, that fool)," he said, chuckling with glee.
In his last PTV interview, Duterte claimed Trillanes has an account with DBS Bank in Singapore with the account number "178000296012" which he claimed has a balance of 193,000, though he did not specify the currency.
Duterte said this number was invented since he decided to omit a few numbers from the actual bank account number in the document supposedly containing information from another government about Trillanes' hidden wealth.
"Binasa ko, binawasan ko ng number. Wala ito, imbento lang (I read it and decided to remove some numbers. This is nothing, just a made-up figure)," he said.
The "correct" number, he said, was the one found in repostings of Presidential Communications Assistant Secretary Mocha Uson and read out by Tulfo ? "1178000281602."
The senator supposedly used the President's made-up number when he asked DBS for certification. Duterte claims this proves Trillanes is "lying."
Asked why he gave a fake bank account number during a public interview, Duterte said he wanted to "catch" Trillanes doing something dishonest.
In a statement, Trillanes said: "Buti naman umamin siya na sinungaling siya. To begin with, nanalo siya base sa propaganda at kasinungalingan. Sana naman maliwanagan na ang mga kababayan natin na naloko at patuloy na niloloko sila ni Duterte."
(It's a good thing he confessed to lying. To begin with, he won on propaganda and lies. I hope our countrymen are more enlightened now that Duterte has duped and continues to dupe them.)
In the interview, the President also claimed Trillanes kept flying to Singapore in September, though he did not specify the year. He also said the senator has accounts in other Singapore banks.
Trillanes has also closed his Hong Kong account, alleged Duterte.
He gave assurances he would come up with the "right" bank account numbers soon.
"Ibigay ko 'yung number, 'yung tama. Hintay ka lang (I'll give the number, the correct one. Just wait)," said Duterte. ? Rappler.com
https://www.rappler.com/nation/182697-duterte-invented-trillanes-singapore-bank-account-number
What is going on? A president making things up in his mind? Does a sane person in any capacity would do such a thing? Is he in his right mind?
Insanity could be a case for impeachment!
This discussion has been closed.