Home
›
PEx Family and Society
›
Realm of Thought
Indigenous, not indigent.
Sovereign R
PExer
When the early Spanish explorers arrived since Magellan found "Zamal," they reported only two Tribes: the original Hebrews ("Habirus" in ancient Egyptian pyctoglyphs with their intricate "habi" - weaving) and Moslems.
Subjugation within Spanish colonization applied "divide and conquer" strategy on the ancient Pili Pino (Chosen Finely) Heritage and divided the original Hebrew tribe into more than 100 tribes and reduced the ancient ancestors from Indigenous to "indigent."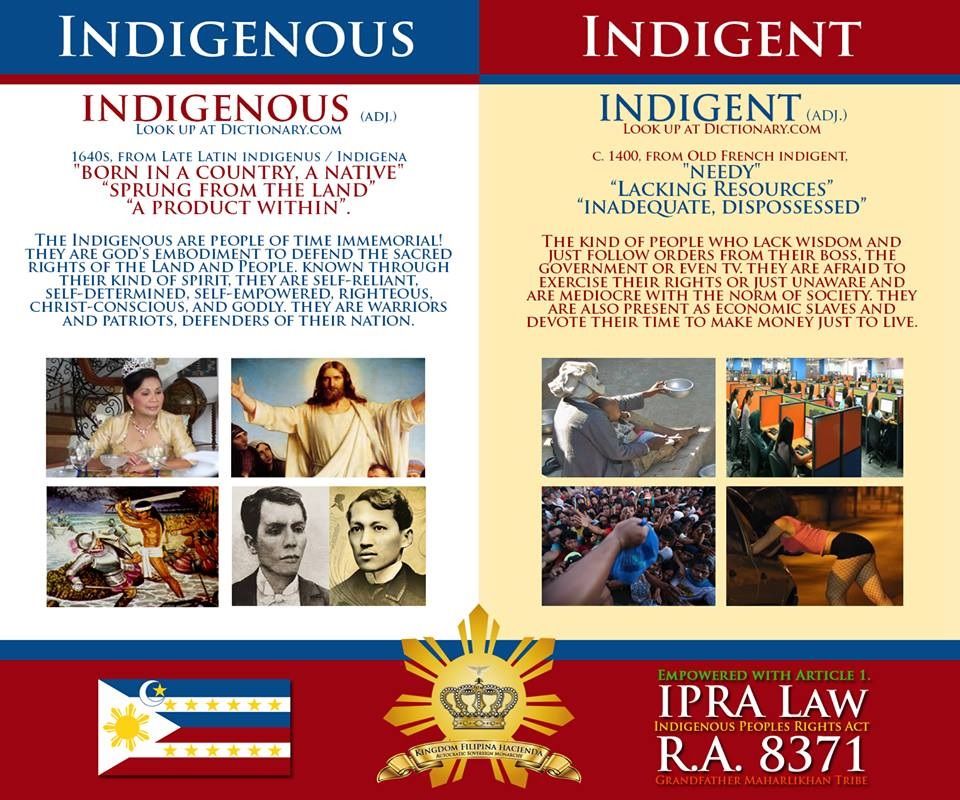 The true Land of Promise is in LUPANG PANGAKO. The Garden of Eden of Grandfather Maharlikhan TRIBE (144,000 Witneses) is located not in the Babylon area version of Babylon Mystery Religion but in the Mother Province in Article XVIII Section 9 Transitory Provisions with Ground Zero (Royal Castle, 11th Street, Pala-o New Barangay Primary Sovereign Government, Iligan City, Region 10) of Sovereign Heir of World Territorial Jurisdiction OCT 01-4S Hacienda Filipina found in the Treaty of Paris of original 1935 Constitution resolved in Supreme Court of the Philippines Resolution with Letter of Transmittal as Case is Closed to HRM Salvacion Legaspi Y Espiritu Santo (Divine Feminine) the Christ Isa (One: Father, Son, Holy Spirit) prophesied Queen of the South (Bae sa Pagabagatan) Incarnate on the Judgement Day.
Highest Tribunal Supreme COURT of Sovereign Heir supersedes the Supreme Court of the Philippines, thus superseding all world courts.
De facto "Republic of the Philippines Corporation," mainstream de facto CORPORATE (mal)educational system suppressed the Indigenous Pili Pino Heritage that kept mainstream society in ignorance and indigent to de facto CORPORATE agenda.
De facto 2014 Mayor Duterte was right in saying that before the Lumad were the Moslem, because the 100+ lumad tribes were created later from the original Hebrew Tribe that was even before the Moslem.
Before the Hebrew, Moslem, Lumad tribes (including EXPUNGED version "Maharlika" by Marcos) was the Grandfather of tribes, the Maharlikhan Tribe of legitimate Divine (Interstellar / Interdimensional Blueprint of God's Divine Plan) Govt. Kingdom Filipina Hacienda Sovereign Host Nation Holder of World Territorial Jurisdiction Hacienda Filipina empowering with IPRA Law since time immemorial, with New Sovereign Republic of the Philippines invoked witth Territorial Jurisdiction.
Excerpt:
Ayon sa mga sinaunang Kastilang manlalakbay ang nakatira sa tanyag ng Isla ng mga Ginto ay mga Hebreo at Muslim. Mapupunang sinadya itong binura sa kasaysayan at pinaghahati ang mga Tribu mula sa labindalawa na orihinal na Tribu ni Jacob hanggang naging higit isang daan at sa halip maging Indigenous ay naging indigents ang mga ito. Mapupuna na binubura ang bahagi ng kasaysayan ng mga ninuno ng de facto CORPORATE maleducation mula nang sumakop ang mga Kastila na infiltrated sa Illuminati agenda kaya nanatiling mangmang ang karamihan tungkol dito.
https://web.facebook.com/notes/kingdom-filipina-hacienda-sovereign-host-nation/kasaysayan-ng-maharlikha-mula-sa-hardin-ng-eden-lemuria-at-sa-kasalukuyan/796970660431927/