Home
›
PEx Family and Society
›
Buhay Pinoy
Discuss your bets and predictions on who will be the next
Miss Universe
. 👑
"Trabaho Lang..."
F-A Soldier
PEx Influencer ⭐⭐⭐
In college I had my small govt. class and one of the speakers that came during the middle of the semester was a lobbyist. She was a liberal and I asked her if she ever lobbied for a cause or person she didn't believe or like, but did it because it was her job. She didn't really go on details but said that one time at least she worked for a person's campaign she didn't like...I doubt that she only did it "once" because of the fact that she crafter her words very carefully as if hiding something...
So Jameaux's post about Gloc9 participating on Binay's daughter's campaign party highlighted the irony that often times people/celebrity often say one thing but does another...and labels it or attribute it to 'work'.
Remember this? He made fun of Roxas up until he showed up on his campaign video, wherein later he said a. he didn't get paid b. he volunteered for his campaigns...
Also this: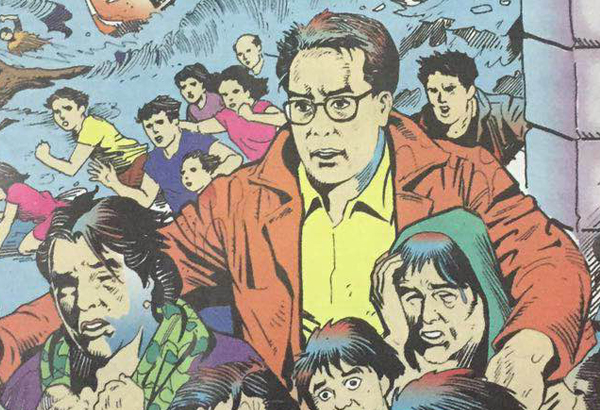 http://www.philstar.com/headlines/2016/03/28/1567002/comic-book-depicting-mar-roxas-yolanda-hero-draws-flak
"Marami po akong naidrowing na komiks pampulitika noon at ngayon. Trabaho lang po, sana'y inyong maunawaan. Maraming salamat po. DUTERTE PO ANG PRESIDENTE KO!"
http://www.gmanetwork.com/news/story/560638/news/nation/illustrator-of-roxas-comic-book-says-he-s-for-duterte
You ever been in a situation where, you disagree with something politically, religiously, or personally but did it anyways because that person/job gave you money?
Did you think about the implications of what you did/are doing in regards to what you actually think/believe/aspire?
Could you be comfortable with doing something you personally dislike/disavow but have to do or encouraged to do because it's convenient or very profitable? Can the two (career/job vs. beliefs) go hand in hand just fine?
Did you feel like a hypocrite doing it? Or did you just attribute it as a 'job'?
Is the media/society/netizens being too hard on these people? I mean there's no link to these things many times (eg. just because Bautista made fun of Roxas doesn't mean he doesn't like his politics or that Binay automatically means hypocrisy for Gloc9 who always advocated the poor and downtrodden, since all of the candidates anyway are rich ie whoever he advocates would be similar to selling out).
:blowsmoke:
[#]WerkWerkWerkWerk[/#] [#]HeSeeMeDoMe[/#] [#]DurtDurtDurtDurt[/#]