Home
›
PEx Local Entertainment
›
Showbiz - Male Celebrities
RICHARD GOMEZ : 31 Years in The Business of Show and Counting...
crystalblast
Member
PExer
The story of us
LOVE LUCY
By Lucy Gomez
(The Philippine Star)
May 17, 2015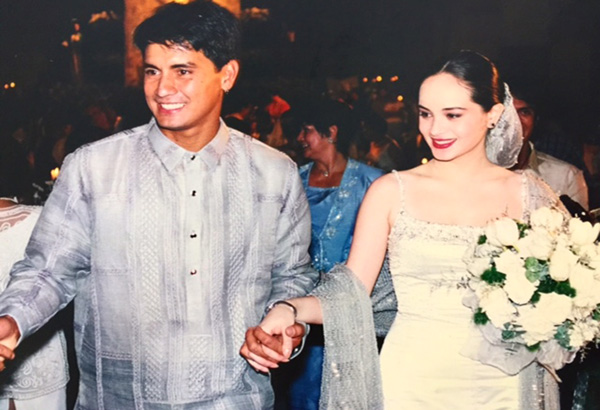 I still do: Richard Gomez and his wife of 17 years Lucy Torres Gomez
Last Tuesday, April 28, Richard and I marked our 17th year together. Seventeen years. I still remember the first time I laid eyes on him: this tall, lanky man, in the movie Inday Bote, and then Blusang Itim, and all others after that. I was smitten. Twelve years old and in sixth grade, and I would cut out photos of him from movie magazines with names like Kislap, Moviestar, etc. that Daddy would allow us to buy every Sunday after church. I would slip them on the cover of my notebook protected with plastic. There was no chance for me to see him in person, all my classmates said. Why would any movie star ever land on the shores of Ormoc? "Oh, but I will see him, I will find him," I'd happily giggle. "One day I will watch a concert and he will be a guest and I can have a photo with him" or "One day Bench will open in Cebu and he will cut the ribbon and I will see for myself if he is really cute." There were all these possibilities.
Anyway. I remember the first time I saw him in person many years later, all of 18 years old, on the set of a TV commercial for Lux Shampoo. My parents had allowed me to do the ad, and I had said yes, not knowing who the leading man would be. The advertising agency was very secretive about that particular detail of the project, only going as far as saying he was a movie star, under code name "Boyet." I almost fainted when I did find out Richard would be my leading man. And I thanked God I had the good sense to keep my hair long all those years. Who would have guessed it would lead me to my crush?
I saw him first through the crack of the door, very early in the morning. It was our first shooting day. We were in a beautiful white house with a high ceiling and a graceful staircase. The sunlight made it look really dreamy, like a set in some movie. It was the Russian Embassy then, I was told. I had a horrible bout with dysmenorrhea and I was seated on a sofa when he arrived. When I saw him the pain literally disappeared. Or maybe I just forgot about it; I cannot say for sure. Through that crack in the door there was this very tall man with strong shoulders and golden brown skin, chiseled features, hyper-real — the walking and talking version of all the photos I had collected for all of six years. He was in a cream-colored T-shirt, khaki shorts, a strand of tiny, light pink seed pearls hanging around his neck, so much more gwapo than I ever imagined him to be. I couldn't breathe. And as I stared at him, frozen in time, I remember wondering how someone wearing pearls could still look so masculine. We were introduced formally, he said "Hi" and offered me half of the apple he was eating. "Where is Ormoc?" I remember him asking. I kept the seeds, as if they were precious jewels, and I know I still have those seeds in a white envelope somewhere in my treasure trove of mementos, labeled with the date. (The last time I saw them in my drawer years back the seeds had disintegrated into a fine powder.) I mumbled back a composed "Thank you," my heart beating so fast I was afraid he could hear it. At lunch that day he sat beside me on the table and looked at my plate. He said the vegetables were good and I ate the carrots and the string beans without really tasting them. I never ate vegetables back then, but that day, on that table, I would have eaten a basket of okra or ampalaya and I wouldn't care. He was this confident man, friendly but not overly so, self-assured, and unpredictable, gorgeous like anything, with a sinewy frame. And so we shot for a couple of days and it was all so strange and wonderful and almost unreal — all that all at once. Then I flew back to Cebu where I was studying, hair black as the night, apple seeds, photos and memories and all. Life went back to normal for the college student that I was.
There were times when I wouldn't hear from him for months on end but suddenly on my birthday he would call. Or the phone would ring on the most ordinary of days, just to say hi. There were no mobile phones yet so it would always be through a landline. One day, he just showed up in my Lola's house in Cebu, bringing with him a bunch of wild flowers wrapped in newspaper. I was used to getting all these grand floral arrangements from guys but here was this man who brought me flowers that were just brought from some flower vendor somewhere. It was all very raw and very kilig like that. Oh, and I remember how he always smelled so good — never of perfume, just baby cologne.
Time found us doing a series of shampoo ads, a total of eight from 1993-1997, and many phone calls, letters and some poems later, on my birthday in December of 1997, he came to Ormoc and proposed. We were in the balcony of our house in Carlota Hills and when the clock struck 12 he fished a ring from his shorts pocket and asked for my hand in marriage. I, too, was in a T-shirt and shorts, with a few other friends, all of us in house clothes. It wasn't the kind of proposal I had envisioned as a girl dreaming of her own Prince Charming, but in hindsight I would not have had it any other way. And so that was that. Four months later, in a Randy Ortiz gown and lips painted in MAC Russian Red, wearing my engagement ring and the matching earrings he gave me, I walked down the aisle of Saints Peter and Paul Parish in Ormoc City into his arms, and into my forever. I was the first among my siblings to get married, and so Daddy was sobbing as he walked me down the aisle. I chose the instrumental theme from Love Affair (the version starring Annette Bening and Warren Beatty) as my wedding march, a floor–length veil covering me. My entourage was in powder blue and silver. Tita Mila Garces, who did my makeup for most of my Lux Shampoo ads, was also the one who fixed me up that day. The Mass was solemn and beautiful, the wedding reception fun and light, with lots of singing and dancing. Heny Sison made our beautiful cake, the topmost layer a fruitcake we were supposed to store and eat on the occasion of our first wedding anniversary. But we never got around to eating that cake because Mommy gave it away to someone who wanted it, not knowing it was reserved for one year later. We still laugh about it to this day.
The memory of it all makes me smile. And the lines from the song Got To Believe in Magic ring so true:
Got to believe in magic,

Tell me how two people find each other,

In a world that's full of strangers.

Got to believe in magic

Something stronger than the moon above

'Cause it's magic when two people fall in love

When I am all of 85 and Richard is in his 90s, we will have a little ice cream shop and reminisce over the story of us. Happy anniversary, Honey. Know that ours is my favorite love story.
Leave a Comment