Home
›
PEx International Entertainment
›
Music Fans
♛ MARLISA - The New Era of Teen Music ♛ (MarlisAngels' Heaven 1.0)
created4kookie
PExer
[center-hidden]
cto:krizFull name:
Marlisa Ann Ongkingco Punzalan
Birthdate:
October 1, 1999 (age 15)
Birthplace:
Sydney, New South Wales, Australia
Genres:
Pop, Gospel, Country, Jazz
Occupation(s)
: Singer, student
Instruments
: Vocals, piano
Years active:
2013–present
Labels:
Sony
:spinstar:
INTRODUCING MARLISA
:spinstar:
Marlisa Ann Punzalan also known mononymously as
Marlisa
, is an Australian singer who won the sixth series of
The X Factor Australia in 2014
. She became the youngest contestant to win the show at age 15. Punzalan subsequently received a recording contract with Sony Music Australia and released her debut single
"Stand By You"
, which debuted at number two on the ARIA Singles Chart and was certified platinum by the Australian Recording Industry Association. This was followed by the release of her self-titled debut album Marlisa, which debuted at number six the ARIA Albums Chart and was certified gold. cto:
wikipedia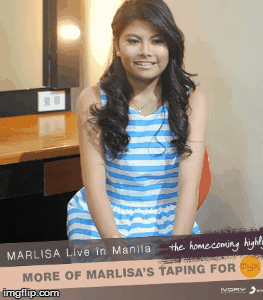 :spinstar:
BIOGRAPHY
Marlisa was born on 1st of October, 1999 in Sydney to Lito and Andrea Punzalan. Her parents immigrated to Australia from the Philippines before she and her older brother Martin were born. Punzalan lives at Glendenning, New South Wales. She began singing at the age of three. In 2013, she auditioned for the seventh series of Australia's Got Talent but did not make it past the audition rounds, and also attempted to audition for the first series of The Voice Kids, but exceeded the age limit by one month. Before entering the sixth series of The X Factor Australia in 2014, she was a student at Mercy Catholic College in Chatswood and a regular performer at charity events, eisteddfods and RSL competitions. After becoming the winner of the sixth series, she left high school to become home-schooled and focus on her music career.
cto:wikipedia
[/center-hidden]