Home
›
PEx Local Entertainment
›
Showbiz - Loveteams
COMMUNITY NOTICE: Please send your reports, concerns and other inquiries to admin "pexer99". This account will
handle all community functions for PinoyExchange. You can also email us at pex[email protected] For category related concerns, you can also send a message to one of our moderators. Check the updated list of moderators here.
♥♥♥ JoshAne Shippers: Kapag tumunog ang barko, ALAM NA! All Aboard! Ship No. 4 &#9
zzane
Member
PExer
[center-hidden]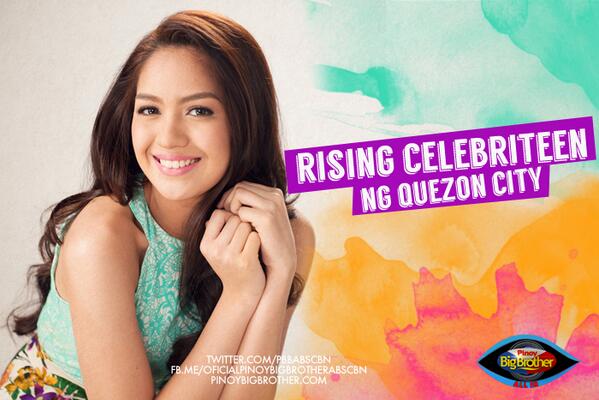 :spinstar:
Elizabeth Jane Urbano Oineza
:spinstar:
Age:
17
Birthdate:
July 22, 1996
Origin:
Pasig
Occupation:
Actress
Hobbies:
Dancing, Singing, Hosting, Acting
:spinstar:
MORE ABOUT JANE
Jane is a teen actress whose television career started when she was just a toddler. After a couple of TV commercials, she was casted to play the young Istah in Marina and became a regular on Goin' Bulilit. After graduating from Goin' Bulilit and blossoming into a beautiful teen actress, she got meatier roles in different teleseryes. She is now acknowledged as a serious artist after she bagged a Best Actress nomination in the 2013 New York Festivals for her role as "Nene" in MMK's "Manika".
*
Jane never had a boyfriend, not even an on-screen partner. Her being NBSB (No Boyfriend Since Birth) is by choice, but will love find its way into her heart while inside Kuya's House? After all, anything can happen inside the famous blue and yellow house, right? :')
PBB introduction
:
https://www.youtube.com/watch?v=wMYc6fLJ-k8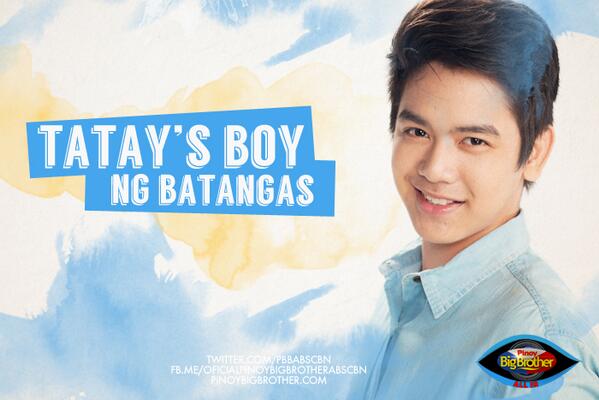 :spinstar:
Joshua Espinelli Garcia
:spinstar:
Age:
16
Birthdate:
October 7, 1997
Origins:
Bauan, Batangas
Favorite Color:
Blue
Favorite Perfume:
Prescripto.
Hobbies:
Dancing, Playing Basketball, Playing Guitar
:spinstar:
MORE ABOUT JOSHUA
Joshua Garcia temporarily stopped schooling due to financial reasons. During his school days he was considered by his peers as one of the campus crush. Although he stopped schooling he is now more determined to finish his studies right after he was reunited with his father.
Joshua Garcia now lives with his dad, stepmom and three half brothers. According to Joshua Garcia from Batangas, he regards his father highly because of his hardworking traits that served as inspiration for him. Before he met his father he lived with his Uncle after his parents separated.
Joshua Garcia also noted that his stepmom treats him as her own and he has a good relationship with his half brothers.
Joshua Garcia is a dancer and member of Batangas' Cultural Dance Group, Sining Kumintang. Apart from being a dancer he also loves to play the guitar and the Filipino's well-loved sport, Basketball.
PBB introduction:
https://www.youtube.com/watch?v=mMyyi30yy5k

1. yellow1
2. offcamwhore
3. zzane
4. hayupak
5. james_chicago2
6. ejsloveu
7. chill_wan
8. liezlanne
9. baby_pochaco
10. Sandslim
11. jundee_nel 
12. debone_me 
13. icko_cousin
14. Crasher005 
15. bernzzz100 
16. areyoudone02
17. thimsdubai
18. puyat101
19. PhenomEagle
20. Joshane4Ever 
21. rusell_fe 
22. emruth823 
23. sarah81
24. pecharay
25. rachel_0204
26. alexwifey
27. joshua143red 
28. cedi2010 
29. etherial_fist
30. shaniaremma 
31. psEud0byte 
32. weirdette
33. riobi_kwan 
34. jiraiyasama 
35. aisakaFowler 
36. alexiuszeus25 
37. peipeiii
38. tontondane 
39. lulumd
40. lany1128
41. msChoi 
42. volleybelley 
43. badassCR 
44. raffy17
45. despisePappus 
46. BRETZERSFANATIC
47. Erichpinaybarbie 
48. Reilika 
49. Starwrinkler15 
50. Higante
51. raven1 
52. yourfeud 
53. tess_gwapa 
54. Maveru89 
55. driey14 
56. Izhi 
57. immortal_badmike 
58. kha55im 
59. ninopex 
60. Jnnng 
61. arleneloveskimon 
62. Addictedtopex 
63. sheryldls 
64. CamYoj 
65. sc0utFinch 
66. Diane12 
67. lime352436 
68. artblueice 
69. montanasci
70. ajai 
71. Me of cebu 
72. Buzzzzzz 
73. SinnerSaint702 
74. MyPOVMatters 
75. crazyglue427 
76. 430Ferrari 
77. MamaLhites 
78. boymargaux 
79. maeparoparobogz

Please repost every page!
[/center-hidden]
Leave a Comment