Home
›
PEx International Entertainment
›
International TV
Bent [NBC]
topnotch97
PEx Influencer ⭐⭐⭐
Bent
Series Premiere March 21
Wednesdays 9/8c & 9:30/8:30c
"Bent" is a romantic comedy about a womanizing, surfer dude contractor and his beautiful, no-nonsense, type-A client, who work together to remodel each other's lives as they renovate her Venice, California home.
On the surface, Alex (Amanda Peet, "Studio 60 on the Sunset Strip") and Pete (David Walton, "Perfect Couples") could not be more different. The recently divorced Alex is a hard-working, high-strung lawyer who is raising her 10-year-old daughter, Charlie (Joey King, "Ramona and Beezus"), as a single mom following her husband's incarceration for insider trading.
Unwilling to let anything get in her way, she downsizes into a smaller house and hires the charismatic Pete, a free-spirited ladies man and recovering gambling addict who desperately needs this gig with Alex to jumpstart his life - and prove that he is no longer a screw-up. Upon hiring him, Alex quickly realizes that she has met her match in Pete, who - along with his motley construction crew - will not only tear apart her kitchen, but also transform her worldview in the process.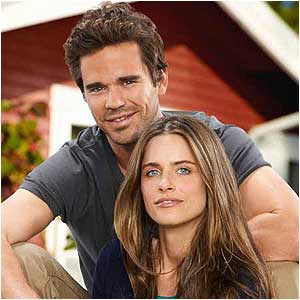 Adding to the charm of Alex's family life is her wild younger sister, Screwsie (Margo Harshman, "Sorority Row"), who unfortunately for Alex, seems to be cut from the same reckless cloth as Pete. Meanwhile, Pete's home life includes his narcissistic, live-in father, Walt (Jeffrey Tambor, "Arrested Development"), a perpetually unemployed actor who still yearns to get back in the game.
Trailer
[video]
http://youtube.com/v/7ZW8qnO3L2o[/video]
Credits
Starring: Amanda Peet, David Walton, Margo Harshman, Joey King and Jeffrey Tambor
Executive producer: Tad Quill
Creator: Tad Quill
Director: Craig Zisk (Pilot)
Co-executive producer: DJ Nash
Consulting producer: Erin Ehrlich
Line producer: Chris Plourde
Writers: Tad Quill, DJ Nash, Erin Ehrlich, Aseem Batra, Tony Dodds, Chuck Hayward, Marc Singer
Casting director: Susan Edelman
Production designers: Ruth Ammon (Series), Joseph Lucky (Pilot)
Director of photography: Anthony Hardwick (Series), Alan Caso (Pilot)
Editors: Bill Turro, David Helfand
Origination: Los Angeles, CA
Produced by: Universal Television, Rosalita Productions Inc.