Home
›
PEx Sports
›
PBA
COMMUNITY NOTICE: If you are having trouble in your account access, please do send us a message at
[email protected]
for assistance.
Great, Great Read from Rafe: Spoelstra in the Philippines
durden_tyler
Member
PEx Influencer ⭐⭐⭐
Make that: great, great, great, great read.
Here's Rafe Bartholomew's latest piece at
www.grantland.com
talking about Fil-American Eric Spoelstra's last trip to the homeland. (A loooong piece to so i just copy+pasted the best parts.
http://www.grantland.com/story/_/id/7028101/spoelstra-philippines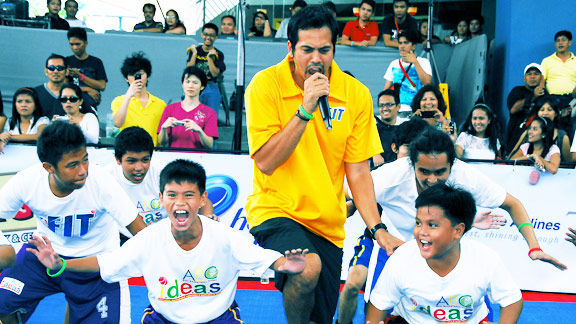 Spoelstra in the Philippines
While the panicked driver jabbered into his cell phone about a missed stoplight, Spoelstra and company stared through the windows at Manila street life: pedicabs zipping around the lumbering bus; children being bathed in plastic basins along the sidewalk; and freelance trash collectors pushing wooden wheelbarrows, beseeching anyone in earshot to donate "diyaryo't bote" — newspapers and bottles. Block after block, the coach saw homemade basketball hoops, some with rims bent out of repurposed rebar and others with plywood bed frames serving as backboards, hanging over street corners and tucked away in narrow walkways. The game was everywhere.
The initial frenzy wore off just as Spoelstra arrived. The coach said a word of thanks and swiftly began coaching. "Stance!" he shouted, and the kids bent their knees and stretched their arms in a defensive position. "Good!" Then a five-second pause. "Up!" The pattern — "Stance! Good! Up!" — continued for five minutes. A few of the students looked up; their black bangs were sweat-plastered to their foreheads and a hint of panic was in their eyes. Usually, these visits from basketball royalty involve little more than high-fives, layup lines, and pats on the back. NBA Asia's Ed Winkle crept behind me and whispered in my ear, "Once he gets going, I don't think he can differentiate between these kids and his players."
Spoelstra may not be able to single-handedly save the Philippines from its love of fried pork fat, but he certainly managed to connect with his heritage and Filipinos' affection for basketball. Toward the end of the Mall of Asia event, he delivered a version of the spiel he closed almost all of his appearances with: "Remember, there is nothing better than being here in this open air with this ball and this basket. That's life right there. Respect this game, and it will respect you back." Coming from almost anyone else, that line might ring false — just another boilerplate-gilded sports cliché. But coming from the mouth of an NBA head coach, and hearing it in the Philippines, where millions of people really do plan their days around afternoon pickup games, neighborhood tournaments, and broadcasts of the local college league, it sounded simply golden. Throughout the mall people stopped chattering, pocketed their cell phones, and nodded along with Spoelstra's words.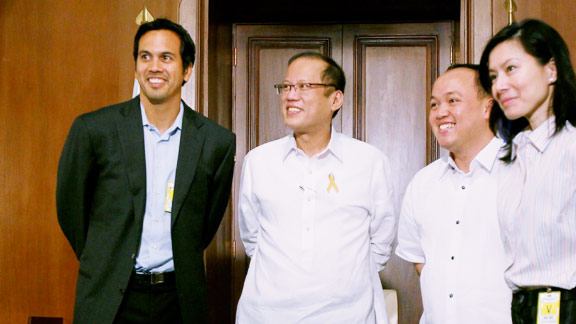 "The kids picked things up just by watching," Spoelstra said. "We would demonstrate and they would just mimic it right away with such athleticism and coordination. It was incredible." After the workout the players sat down for a question-and-answer session. "We were like, 'Come on, they don't speak English. What are they gonna ask?'" Spoelstra said. Then, with help from a Chavacano interpreter, the kids started rattling off questions about Dwyane Wade's contract situation heading into the 2009-10 season and answering trivia questions about Bill Russell's career. "That blew us away," Fizdale said. "When you realize that these kids have nothing and they live in these circumstances and they still know Dwyane Wade's scoring average over the last three years? That's how we could tell what a big deal hoops was.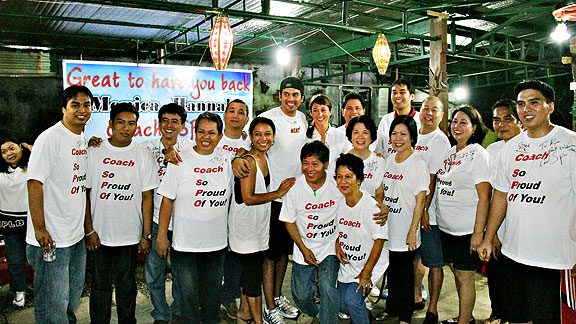 At some point in the evening, one of the cousins unveiled a six-liter water bottle that had been refilled with lambanog, a local coconut wine that had probably been brewed in someone's backyard. Spoelstra and the other guests marveled at the tub of rust-colored hooch and took turns posing with it. When it was passed to Spoelstra, the coach held the jug above his head with two hands, much like he might have held the Larry O'Brien trophy if the Heat had won the Finals. Earlier that night he promised to bring the trophy to the Philippines in the not-too-distant future. For now, he could hold only the lambanog, but that, too, marked a kind of achievement. Over the past three years, Spoelstra has revisited his Philippine roots, and through basketball he has managed to forge a lifelong bond with the country. Thanks to that, if Spoelstra ever does bring the NBA championship trophy to the Philippines, when he hoists it in Uncle Tony's backyard it will be an honor that he truly shares with his people.
Leave a Comment