Home
›
PEx Local Entertainment
›
Showbiz - Female Celebrities
VILMA SANTOS: The Ultimate Brightest Star of the Century Thread 43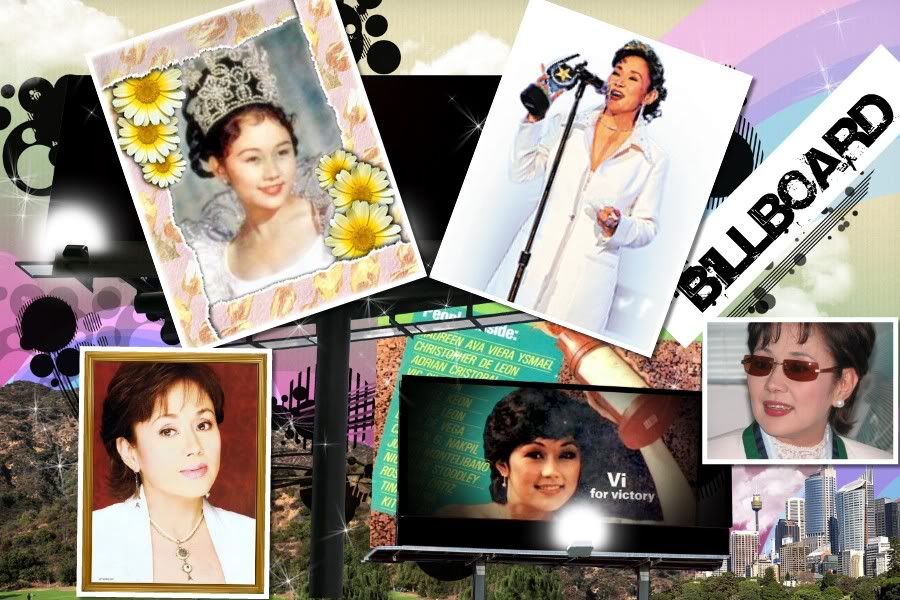 Philippine cinema has a constellation of the brightest actors and actresses. But actors are born not made. There are some who are given their time to shine, only to put it to waste when success comes into their heads. Others are given special treatment. Some are just media hyped while some use others to make it to the top. But success is sweet when someone do it through hardwork, dedication, charisma and pure talent. Spell it out, it's
VILMA SANTOS!
Vilma Santos is an exception. Pitted against a much-hyped ordinary looking star, Vilma struggled in the early stage. But this does not diminish Vilma's perseverance. Her rival, dubbed as the Superstar, made a strong start. But Vilma, who is up for the challenge, slowly but surely made her move. The early 70's reign of the hyped star was quickly erased when in 1973 Vilma starred in the one of the biggest hits of that time,
Lipad, Darna, Lipad
. The impact created by this movie overshadowed all of them as in literally all of them. Movie experts and fans are in awe with the amazing box-office intake of the movie.
Vilma suddenly, is the toast of the tinseltown.
She continued with a string of hit movies. Her star is glowing and her fan base are getting stronger. This validated Vilma Santos as a certified box-office star.
In 1977, Vilma made another milestone.
Burlesk Queen
was shown in the Metro Manila Film Festival. This is the year when all movie heavyweights fielded their entries.
And Vilma, with her amazing run, beat them all. Burlesk Queen was number one in the box-office. Movie critics were astound with Vilma's portrayal as the young burlesk dancer. She sealed it with a Best Actress victory plus the critics approval that she is now a serious actress. She has finally arrived as an actress and there's more.The biggest battle came in 1982. Vilma Santos' Relasyon was pitted against her rival's much-hyped movie Himala. In a single blink, Vilma swept all the Best Actress awards from all the award giving bodies, making it as the "first ever Grandslam" in history. The grandslam win cemented Vilma's stature as the premiere actress in the land relegating her rival to a far, far, far second. This was followed by three more grandslam win that stamped Vilma's superiority in the acting department and literally killed the career of her hyped rival.
Vilma's dominance both in the box-office and in the acting department continued up to the 90s and in 2000. Anak, in 2002 was the second highest grossing movie of all time. Mano Po 3, Bata, Bata, Paano ka Ginawa? Dekada '70 are all award winners and box-office hits. More glory comes as she bagged 2 international best actress trophy and the much coveted Plaridel awards. In September 2009, In My Life was shown and became a huge box-office and critical success. And as fate would have it, Vilma's magical charm continues as
politics beckons and she excelled tremendously.
She is a 3-termer mayor and a 2-termer Governor. A first for any actress in Philippine movie history. She now made Batangas a top province economically and a major tourist attraction.
Today, not even the arrival of the former superstar can shaken Vilma's stature as the top actress of the land
. Projects kept pouring her and will start a movie soon under Chito Rono for Star Cinema. A TV program is in the works, producers and advertisers are lining up for her services and political parties are wooing her for a higher position. While her rival hyped status as the superstar, had long been gone, Vilma Santos', the Star for All Seasons star still shines the brightest.
For almost 50 years her star survived many trials, eclipsed movie queens and would-be queens, outperformed other stars who block her way, outlasted many senior stars, and outplayed even the younger stars of today. A feat nobody could topple up to this day.
Stars come and go. Some may be called stars, superstar, nova star, mega star, diamond star, multi-media star, but none of these can match the star that is the Star for all Seasons, and the Queenstar for all Seasons, and the Queen of all Queens,
VILMA SANTOS, whose star still shines luminously after all these years. Truly, the ultimate brightest star of the Century!
:love:justin:love: