Home
›
PEx Local Entertainment
›
Showbiz - Female Celebrities
♥♥♥VALERIE "BANGS" GARCIA♥♥♥~Versatile,Eloquent,Intellectual,Gor
SODALOVER
Member
PExer
]
♥♥♥♥♥♥♥♥♥♥♥♥♥♥♥♥♥♥♥♥♥♥♥♥♥♥♥♥♥♥♥♥♥♥♥♥♥♥♥♥♥♥♥♥♥♥♥♥♥♥♥♥♥♥
SHE IS THE ULTIMATE COVER GIRL, VERY SWEET AND LOVELY
♥This is a Fan Page for Valerie "Bangs" Garcia♥
LERIE,short for vaLERIE, a unique nickname we agreed to address Valerie Bangs Garcia. With her consent, we call her LERIE
Thus,the birth of LERIEanz
12/23/10
FACEBOOK-> http://www.facebook.com/pages/Leriea...37747506281353

TWITTER-> [url]https://twitter.com/Bangsy_valerie

https://twitter.com/LERIEANZ[/url]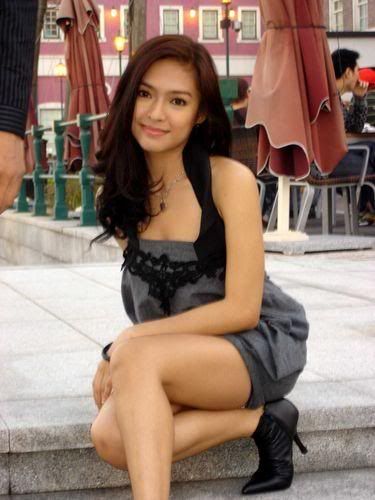 Valerie "Bangs" Garcia (born May 20 1987)
is a Filipina actress. She is well-known for her role as Bangs, the mysterious punk rocker in ABS-CBN's sitcom Let's Go and Gokada Go. The nickname "Bangs" came about because her bangs/fringe covered her face.
Valerie Garcia is in the reality show Campus Idol where she emerged as the female grand winner.
Her first appearance on national TV was on the reality search Close-Up To Fame where she was one of the runners-up to female grand winner Carine Cabebe. Valerie Garcia is a member of ABS-CBN's circle of homegrown talents named Star Magic.
One of her first major project is ABS-CBN's teleserye, Kambal sa Uma as Ynez Ocampo, one of the main antagonist in the story. [1]
In 2010, the management gave her a leading role on Magkano Ang Iyong Dangal?, where she is playing the role of Carmela Bautista-Morales as the main protagonist.
Precious Hearts Romances Presents: Kristine Diana Montero
Showtime Herself as a judge
Wowowee Herself
Maalaala Mo Kaya: "Gitara" Mabel
Habang May Buhay Mindy
Magkano Ang Iyong Dangal? Carmela Bautista-Morales
2009 Precious Hearts Romances Presents: My Cheating Heart Arlene Peralta
Katorse Shakira
Kambal Sa Uma Ynez
2008 Banana Split Mixed Character/Guest
Midnight DJ Samantha/Samgirl TV5
Palos Sylvia Nazi ABS-CBN
Pilipinas, Game KNB? herself
2007 Wowowee herself
Maalaala Mo Kaya: "Cellphone" Sheila
Gokada Go! Bangs
2006 Let's Go Bangs
2011 Bulong TBA
2010 Cinco
2009 Shake, Rattle & Roll XI Chari
♥♥♥♥♥♥♥♥♥♥♥♥♥♥♥♥♥♥♥♥♥♥♥♥♥♥♥♥♥♥♥♥♥♥♥♥♥♥♥♥♥♥♥♥♥♥♥♥♥♥♥♥♥♥♥♥♥
OFFICIAL FANLIST
[/code]

1.Lerieanz
2.SODALOVER
3.setsuna08




[/code]
Leave a Comment