Home
›
PEx Campus
›
Colegio de San Juan de Letran
Speak your mind, but mind what you post. Let's not spread disinformation and/or misinformation.
AdSpeak 2010 goes High Definition!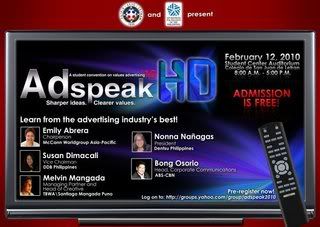 To all communication arts, advertising, marketing, organizational communication and multimedia arts students, I officially invite you to be a part of:
ADSPEAK 2010 HD. (High Definition) Sharper ideas. Clearer values.
A student convention on values advertising.
Learn from the advertising industry's A-Listers:
1. Emily Abrera - Chairperson, MacCann WorldGroup Asia Pacific
2. Melvin Mangada - Managing Partner and Head of Creative, TBWA/Santiago Mangada Puno
3. Nonna Nanagas - President, Dentsu Philippines
4. Bong Osorio - Head of Corporate Communications, ABS-CBN
5. A HERO will rise to the challenge!
ADMISSION IS FREE!
Pre-register now at:
http://groups.yahoo.com/group/adspeak2010
Plus, you can also join a student competition in values advertising!
Learn more on our official website:
http://wix.com/adspeak10/website
* Ms. Susan Dimacali of DDB Philippines won't make it to AdSpeak 2010. But luckily, we have someone to fill in her seat. A HERO will rise to the challenge! Who is it? Very soon.