Home
›
PEx Local Entertainment
›
Showbiz - Loveteams
COMMUNITY NOTICE: If you are having trouble in your account access, please do send us a message at
[email protected]
for assistance.
MISA: Mike He(賀軍翔)♥Charlene Choi(蔡卓妍)'s Calling For
ChengYin_Lover
Mike He & Charlene Choi
PExer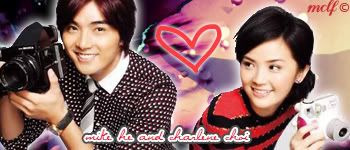 Name: 賀軍翔 / 贺军翔 / He Jun Xiang / Mike He
Nickname: 賀小美/ Xiao Mei
Date of Birth: 28 December 1983
Place of Birth: Taipei, Taiwan
Height: 180cm
Weight: 66kg
Star Sign: Capricorn
Blood Type: B
Family Members: Father, mother, younger brother, younger sister
Profession: Model and Actor
Favorite collection: Sunglasses
Favorite Sport: Basketball, volleyball and boxing
Favorite Colors: Black, white, and blue
Favorite Food: Milk,chocolate and Steak
Favorite cartoon character: Doraemon
Favorite actor: Ekin Cheng and Takeshi Kaneshiro
Favorite actress: Liv Taylor and Charlize Theron
Favorite movie: James Bond 007 series
Favorite music: Country jazz rock and pop
Favorite singer:Areosmith
Favorite line: "True or not?"
He likes girls with long straight hair, quiet by nature, and able to cook.
Details
Mike He Jun Xiang started his career in modeling and gained immediate popularity with his attractive figure and handsome looks. Mike was quickly invited to film a few music video before debuting in his first television series, Seventh Grade (2004) as one of the main characters. He later starred as a lead in Love Contract with Ariel Lin.
Mike is still active as a model for advertising; one of his most famous ads is for an underwear company, which received mass reviews and praises.
In 2006, he starred in TVBG's series Marry Me. In 2005, he starred in two TV series, Express Boy and Devil Beside You (as Ah Meng) with Rainie Yang. Devil Besides You was one of the top-rated TV series in Taiwan for 2005.
Mike He Jun Xiang has also been signed by the film company owned by Bae Yong Joon, the famous Korean actor.
In July 2006, Mike He signed with Hong Kong's biggest television company, TVB, to film a series.
In October 2006, he has signed up to start another TV series with Rainie Yang - Why Why Love.
He is currently studying Tourism along side his good friends Joe Cheng and Ruan Tian Jing at Hsing Wu College in Taiwan (醒吾技術學院進修部二專觀光科).
Mike hangs out with the Taichung Group.
Miscellaneous Facts
* Well known for his on-screen kisses. (described by fans as having "The Lips").The top five actresses he's locked lips with include Rainie Yang, Ariel Lin, Angelica Lee, Landy Wen and Liu Zhe Ying .
* Was voted one of the "50 Most Beautiful People in China" from Beijing News
* Good friend of Joe Cheng and Ruan Jing Tian
* Has an unexplainable fear of lizards
* His wish is to travel around the world
* Met his first love at age 16.
* Has two younger siblings: a little brother and a little sister
English name: Charlene Choi Cheuk Yin
Chinese Name: 蔡卓妍
Nickname: Ah Sa, Sa
Languages Spoken: Cantonese, English, Mandarin
Profession: Actress, Singer, Model, Spokesperson, Fashion Designer, Director, Composer, Idol to Millions
Birthday: November 22, 1982
Birthplace: Vancouver, Canada
Ancestry: Dongguan, Guangdong
Origin: Hong Kong
Height: 5'5
Weight: 100lbs
Blood Type: O
Chinese Zodiac: Dog
Zodiac: Scorpio
HK Cantopop Group: Twins with Gillian Chung
Management Label: Emperor Entertainment Group
Years Active: 2001- Present
Fashion Label: SAL
Education: Marymount Secondary School, Rosaryhill School
Favorite Singers: Robbie Williams, TLC, Aaron Kwok, Andy Lau
Favorite Food: Chocolate, Ice Cream, Rice, Pizza
Least Favorite Food: Onions & Lotus Seeds
Favorite Sports: Rugby & Swimming
Favorite Athletes: Zidane (France Football), Ronaldo (Brazil)
Favorite Colors: Green, Red, & Yellow
Favorite Movie: Somewhere in Times
Favorite Animal: Dog
Favorite Seasons: Summer & Winter
Favorite Cartoon: Hello Kitty
Favorite Country: Japan
Favorite Book: "The Da Vinci Code"
Family Status: Parents Divorced, Father (Hong Kong Sheng Industrial Wind Entertainment Company Executive)
Fun Facts:
- Charlene is known as the Hong Kong version of Andy Lau
- Charlene states her most recommended Hong Kong tourist attraction as being the airport.
- Charlene's first date was at the age of 16.
- Charlene has only dated 3 men in her life.
- Charlene is the God mother of Lin Xiaofeng's son
- While filming "Simply Actors," Charlene took Jim Chim Sui-Man (Jim Sir) as her mentor.
Leave a Comment