Home
›
PEx Local Entertainment
›
Showbiz - Female Celebrities
♥*SHAINAticz KINGDOM*[51] A LITTLE GIRL WHO HAS FOUND HER WAY [51]~SHAINA MAGDAYAO~♥
jecca01
PExer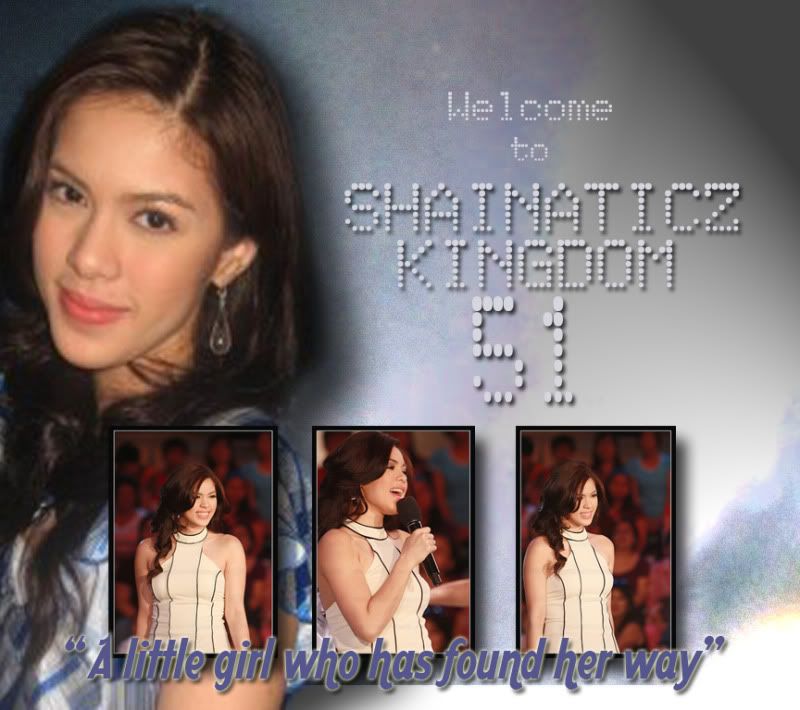 This is the thread of our PRINCESA SHAINA MAGDAYAO Bahay ng mga TRUE and LOYAL SHAINATICS!
[highlight]
To All Shainatics
Congratulations on our last thread! Welcome to the our
51st Kingdom
, our new home! Let's keep having fun and let's keep supporting Shaina!
We have not only come together as individuals who share a common interest, but we have started a foundation of something long lasting, a friendship and a family. Always remember that each and every member is unique and a vital part of this community. Needless to say, we will always encounter challenges, some maybe worst than others, but its a given fact that if it wasn't for them we would not be as strong as we are now.
Let keeps our head up high, for God has been good! Lets keep going forward. Always remember that everything will be vindicated. All in HIS time.
Love you all! SHAINATICZ ROCK![/highlight]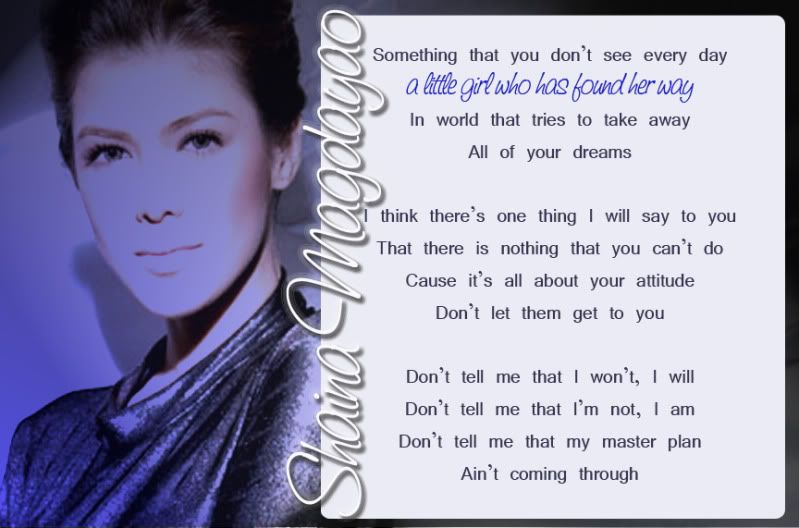 Message to Newbies and Lurkers:

Feel free to post n visit Shaina's thread often. Shainaticz are nice people we don't bite..Feel free to mingle and chat with us. And also feel free to leave a message to Shaina because Shaina does read her thread and she keeps up to date wit us. Thank You and HAPPY POSTING!

To the Haterz:




God Bless You! Know that whatever you say and post will be disregarded. SHAINATICZ are strong individuals and as a group we are even stronger. Our support for Shaina will never fade for we love her dearly, through her virtues and her vices. May God open your minds and your hearts for your Hatred will not take you anywhere. Take Care and God Bless.
[highlight]To MS. SHAINA MAGDAYAO:
THANK YOU FOR SHARING YOUR GIFT! WE WANT YOU TO KNOW THAT YOU
INSPIRE
US EVERYDAY! THANK YOU FOR BEING YOU AND FOR ALWAYS BEING TRUE! KEEP ON BLOOMING! WE LOVE YOU VERY MUCH! ALWAYS REMEMBER THAT WE'RE ALWAYS ON YOUR SIDE!! KA2MPI MO KAMI!
~ Love Always,
Shainatics[/highlight]
Check out the other SHAINAticz Kingdoms
Part 1
|
Part 2
|
Part 3
|
Part 4
|
Part 5
Part 6
|
Part 7
|
Part 8
|
Part 9
|
Part 10
Part 11
|
Part 12
|
Part 13
|
Part 14
|
Part 15
Part 16
|
Part 17
|
Part 18
|
Part 19
|
Part 20
Part 21
|
Part 22
|
Part 23
|
Part 24
|
Part 25
Part 26
|
Part 27
|
Part 28
|
Part 29
|
Part 30
Part 31
|
Part 32
|
Part 33
|
Part 34
|
Part 35
Part 36
|
Part37
|
Part 38
|
Part 39
|
Part 40
Part 41
|
Part 42
|
Part 43
|
Part 44
|
Part 45
Part 46
|
Part 47
|
Part 48
|
Part 49
|
Part 50
Visit din kayo sa SHAINATICS' MULTIPLY SITE
http://shainatics.multiply.com
Join Sharay's Yahoo group:
http://groups.yahoo.com/group/shaina_rayver
Visit Sharay's site:
http://www.sha-ray.piczo.com
Join Shainatics Myspace:
http://myspace.com/shainatics
Join Shainatics Friendster:
http://profiles.friendster.com/58799144
Videos of Shaina:
Videos of Shaina on youtube
**************************
*Keep on Watching Princess Shaina in
ASAP 09 every Sunday with the ASAP IT GIRLS
=============================================