Home
›
PEx International Entertainment
›
Music Fans
PEx Alert: Welcome to the new PinoyExchange. For access issues, bug reports and technical concerns, please email us at pex-info@pinoyexchange.com. Thank you!
David Cook 10.0 ♪ ♫ ♪ He Came. He Conquered. He's Permanent!!! ♫ ♪ &#9
imogen_ph
bumubuntung-hininga
PExer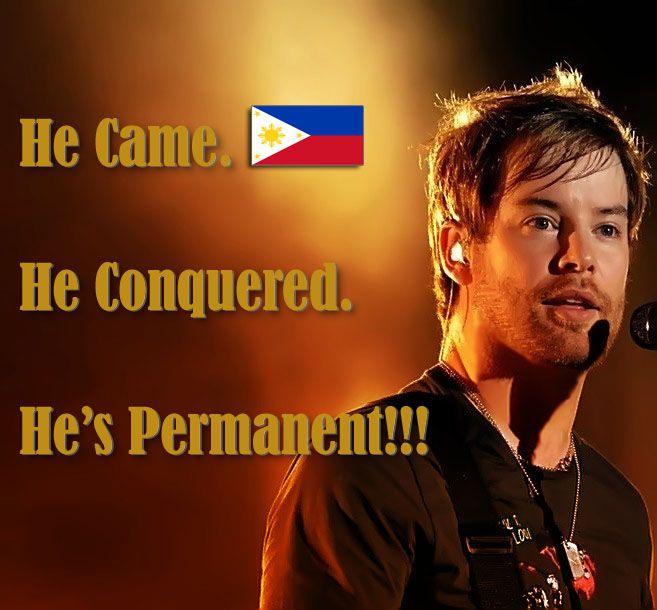 Presenting DwEEB*, or the band that shall be named very soon: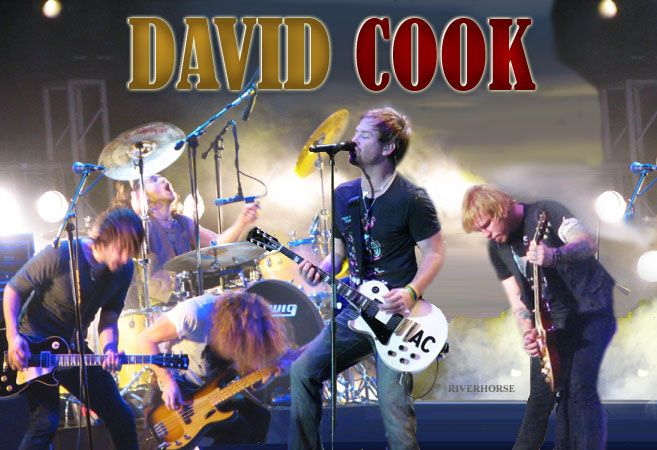 [Andy Skib, keyboards, guitar and backing vocals; Kyle Peek, drums ; Joey Clement, bass ; and Neal "The Doctor" Tiemann, lead guitar.]
*DwEEB = David with the Easy on the Eyes Band. EEB is a fan-given name. They are currently ironing out the legal necessities to get the band an official name. We only know that said name has something to do with a Midwest Kings song. (Midwest Kings is the name of the band where David worked with Neal Tiemann and Andy Skib, who was the lead vocalist.)
Welcome Cookistas, all David Cook fans, whether you have been fans since American Idol season 7, or are discovering him just now.
It's been a month since the very successful concert here in Manila, and so we look back at a highly eventful past few weeks with pride and joy as we start thread # 10. Stand and be proud, Cookistas, for as DJ Suzy told us in the last thread, you have chosen your Idol well. What's more, you did not hold back and showed him how well-loved he truly is out here, halfway across the globe. He knows about his Cookistas. A mere week and a few days after he came back to the US and performed in the American Idol finale, you brought Permanent to the top of the Magic 30 chart (vaulting 20 spots from the previous week), to everyone's surprise. Permanent has already had 3 weeks in the top spot as of this writing. Before he arrived and as we waited, did you ever doubt what would happen? He came. He conquered. He's permanent.
Before anything else, a little history lesson for those new to the fandom (or those who are burning with curiosity over who or what the Cookistas are):
David Cook 1.0 The True Rocker of AI7: David Cook
: Where it all started. Midway through American Idol season 7, David Cook already had a strong, vocal following whom he earned through sheer talent and hard work, but at the time it was a well-known fact that he was not the Chosen One. All through the thread, more and more fans joined in the fray, dedicated enough to log in hundreds and hundreds of votes from across cyberspace. By the end of the thread, we already had our American Idol.
David Cook 2.0 Consider Yourselves Cookified!
: Where we ooh'd and aah'd over DC's American Idol tour performances, awaited developments and news about his upcoming album – the label (RCA), producer (Rob Cavallo), collaborators (too many to mention, see Wiki) -- and marvelled at that sneaky little Magic Rainbow which has since then turned into Platinum Rainbow
David Cook 3.0 Thread Still Untitled, Just Like His Album
: Where we talked about the then much-anticipated yet-untitled debut album
David Cook 4.0 `Cause we love, and we bleed, and we stole his soul to set him free
: Where anticipation for the debut album was at its height, and where album release day finally came. It took us only a little over a month to finish the thread.
David Cook 5.0 He'll be GOLD for Christmas!
: Where we eagerly monitored HDD and Soundscan sales figures for DCTR, celebrated David's birthday and the album's GOLD status, and basically enjoyed the holidays and looked forward to a new year with high hopes for David Cook's success in the music industry.
David Cook 6.0 We're Crashing Down In His Davalanche
: Which we started earlier than anyone expected, and where we started 2009 in high spirits. This was made especially memorable as we ended 2008 with Magic 89.9's Yearend Countdown, where Time of My Life landed at
#3
(to everyone's surprise!), and Always Be My Baby at
#1
. In the following weeks we showed our support for Avalanche, then newly added to the playlist of Magic 89.9, and Max 103.5. We began the thread with Avalanche at
#4
in Magic's Top 5@5 daily countdown. We ended the thread with Avalanche ruling both Magic 89.9 and Max 103.5's weekly countdowns.
David Cook 7.0 Cook Out, On the Lookout
: Where we continued to support Avalanche on Magic and Max, and eagerly awaited news on The Declaration Tour. Thread 7.0 saw the creation of Ang Cookistang Miron, which logs the best videos from the concert tour.
David Cook 8.0 To Platinum and Beyond!!!
: Where we continued to follow the Declaration Tour via cellcasts and Cookistang Miron, and saw the addition of Come Back to Me (aka Windy) to the playlists of Magic 89.9, RX 93.1, and Max 103.5. Come Back To Me climbed the charts in no time, achieving the first grandslam of the year on Philippine radio for 2009, as we ended the thread.
David Cook 9.0: So is this the David Cook Concert thread? Yes. Yes. Yes!!!
: Which we began with confidence, for we had already received official confirmation of the Manila concert. Anticipation went sky high, and preparations were made for the concert. At the same time, we continued to support Come Back to Me, which logged an amazing amount of
#1s
on Magic 89.9, RX 93.1, and Max 103.5. The Come Back to Me music video (aka ydniW/Windy video) debuted in the US at the end of March also, and so we joined our American counterparts in supporting it. David Cook finally arrived in Manila as we reached the final pages.
David Cook 9.1: So is this the David Cook Concert thread? Yes. Yes. Yes!!!
: Which started on the very day David set foot on Philippine soil. This thread saw an
insane
amount of traffic as all eyes in the DC fanverse were on Manila, and this thread (143k views as of this writing). Long time lurkers and new visitors began posting as well, as updates kept coming in – it was the concert week, and there was just so much to report and talk about. The thread filled to the brim with news, pictures, and links to articles, videos, every tidbit of information that had to do with the concert and Cooky's appearances during his 5-day stay in Manila. We saw the birth of
The Cookista Chronicles
, meant to contain inside stories and reports of events that transpired during the concert week.
Some of our best-loved and most frequented David Cook websites:
David Cook Official
– The place to be. Also fondly referred to as "kabila", "kabilang bahay". Of special note here is the TWoP thread, where the snarkiest, smartest and funniest of fans gather and discuss everything and anything Cook-related under the sun. Warning though: not for light readers, as the thread runs at the speed of light. Don't blink or else you might find pages and pages worth of backreading. The TWoP thread's sister Billboard and Soundscan thread, is also a favourite haunt for those who are curious about the numbers – charts and sales information, airplay, station adds and the like.
David Cook Livejournal community
– Gives a very useful overview of Must-Know DC-related events across the internet. LJ members are a very resourceful, creative, and witty bunch. If you need or want something, ask and you will most probably get it.
david-cook.org aka The Dash
- One of the largest and better-organized DC communities out there, this forum provides a wealth of resources for fans.
MJ's Big Blog
– aka MJs. A veritable institution for all American Idol lovers, MJ keeps tabs on all things Idol. Naturally, that also means keeping track of AI winners. MJ gives up to date information on Idol news and appearances, as well as sales and chart information.
David Cook Links:
Wiki page
MySpace
Facebook
IMEEM page
RCA page
Official Youtube Channel
Cookista Links:
The Cookista Chronicles
Ang Cookistang Miron
Cookista Media Library
Cookistas Youtube Channel
Cookista Twitter
(Thread title courtesy of dew_delight. Photochops by riverhorse. Original pictures from imogen_ph, Bea : ) of Flickr and -gorgeous jinx-)
This discussion has been closed.