Home
›
PEx Hobbies
›
Music Fans
BRITNEY: Our Very Own Pop Princess, Now QUEEN OF POP (THREAD III)
ticktock
PEx Influencer ⭐⭐⭐
Britney Jean Spears
(born December 2, 1981) is an American pop singer and dancer, occasional actor and songwriter, most popular in 1999 and the early 2000s. Her career encompasses chart-topping records, high-profile advertising, and forays into acting and reality television. She remains popular throughout the world despite controversy surrounding the perceived sexual nature of her music and image.
Born to Jamie Spears, a building contractor, and Lynne Bridges, a grade school teacher, in McComb, Mississippi and raised in Kentwood, Louisiana, Spears performed in local dance revues and church choirs as a young girl, and was auditioning for the Disney Channel's New Mickey Mouse Club by the time she was eight. Although she was too young to join the series at that time, a producer on the show introduced her to a New York agent; she subsequently spent three summers at NYC's Professional Performing Arts School and also appeared in a number of off-Broadway productions, including 1991's Ruthless! In 1992, she landed a spot on Star Search and although she won the first round, she was beaten by another contestant in the second.
Spears then returned to the Disney Channel for a spot on the New Mickey Mouse Club and was accepted. She was featured for two years between the ages of eleven and thirteen during the 1993 and 1994 seasons. Others on the show included Justin Timberlake and Joshua Chasez (who later became members of the pop group *NSYNC), Keri Russell (star of the TV show Felicity), fellow pop singer Christina Aguilera, and actor Ryan Gosling.
Before long, Spears had recorded a demo tape, which eventually landed in the hands of a Jive Records executive. She was signed to their label and began touring American venues for a series of concerts sponsored by U.S. teen magazines before joining *NSYNC and becoming their opening act.
Britney Spears - 1998–2001: Early commercial success
[IMG][/img]
Spears' debut single "...Baby One More Time" impacted radio stations and MTV in 1998. Led by a music video that featured Spears' infamous schoolgirl outfit, the single became an international success, earning platinum sales and going to number one in the U.S., as well as countries such as Australia, Canada and the United Kingdom. Her debut album of the same name, ...Baby One More Time, topped the LP charts in Canada and the U.S. for six non-consecutive weeks. Within a year of its release, it had become the best-selling LP by a teenager in history, spawned another U.S. top ten hit ("(You Drive Me) Crazy") and shipped over ten million copies in the U.S. alone; it would go on to ship another four million copies on top of this.
Spears was featured on the cover of Rolling Stone magazine in April 1999. The sexually suggestive Lolita-themed photo spread triggered widespread speculation (denied by her camp) that the still-seventeen-year-old had received breast implants. That summer, she kicked off her first headlining tour, the ...Baby One More Time Tour. By late 1999, Britney Spears had become one of the year's biggest stars, a claim backed-up in the amount of award nominations she received that season. In December, she took home four Billboard Music Awards including one for Female Artist of the Year, and the next month won for Favorite Pop/Rock New Artist at the American Music Awards. At the Grammys held in February 2000, Spears received two nominations, including one for Best New Artist.
Following the short-lived Crazy 2K Tour, the lead single from Spears' second album, "Oops!... I Did It Again", was released. It broke a record for most radio station adds in a single day [1] and quickly became a U.S. top ten hit and number one single in other countries, including the Australia and the UK. Released in May 2000, the album Oops!... I Did It Again also debuted at number one in the U.S. and Canada, and was as commercially successful as her debut. It sold over 1.3 million units during its first week in the U.S., making it the fastest-selling album by a female artist in history. Within a year of release, it had shipped over nine million copies in the U.S. alone. It would go on to ship another million on top of that, and yielded two more top thirty hits: "Lucky" and "Stronger".
Spears kicked off her first world tour (titled the Oops!... I Did It Again World Tour) in the summer of 2000, and co-wrote the novel Britney Spears' Heart-to-Heart with her mother, Lynne. During a performance at the annual MTV Video Music Awards, she ripped off a black suit to reveal a provocative nude-colored and crystal-adorned stage costume that generated some controversy due to her young age. In late 2000, she won two Billboard Music Awards, and in early 2001 she was nominated for two American Music Awards. At the Grammys, one of her two nominations was for Oops!... I Did It Again in the category of Best Pop Vocal Album, but again she did not win.
Britney Spears - 2001–2004: Artistic development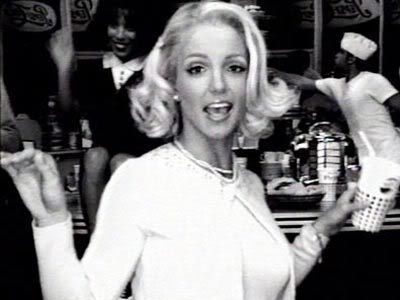 In early 2001, she struck a $7-8 million USD promotional deal with the soft drink giant Pepsi and then released her second novel, A Mother's Gift. Spears performed at the MTV Video Music Awards the following September, and in addition to criticism for being scantily clad, she was called out by by the PETA organization for using animals in her performance.
In November, she released her third album, Britney. It debuted at number one on both the U.S. and Canadian charts, selling over 740,000 units during its first week in the U.S. This made her the only female artist in SoundScan history to have her first three albums debut at number one. Though over four million copies of the record have been sold in the U.S. alone,[2] it was a decline from the sales of her first two albums, and "I'm a Slave 4 U" was the album's only hit single in the U.S. Britney was the first album on which Spears had assumed some creative control; she co-wrote five of the album's tracks. Spears set off on her next world tour, the Dream Within a Dream Tour, shortly after its release.
In 2002, Spears starred in the film Crossroads, which reached number two in its first week at the box-office charts. Spears' four-year relationship with Justin Timberlake ended in March 2002, and their break-up was highly publicised. In response to rumours and statements from Timberlake himself that she had been unfaithful to him, Spears later said, "I'm not technically saying he's wrong, but I'm not technically saying he's right, either". In June 2002, Spears branched out as a restaurateur with the opening of a New York City eatery, NYLA, which was named for its mix of New York and Louisiana cuisine. It was not a success and closed in 2003. She took a break from the spotlight soon after, and in 2003 many music industry critics speculated her career was in decline. That same year, Spears was nominated for two Grammys yet again, including Best Pop Vocal Album.
Spears returned to the forefront of the music scene in August 2003. That month, she appeared at the MTV Video Music Awards with her idol Madonna, pop contemporary Christina Aguilera and rapper Missy Elliott. Spears and Aguilera performed Madonna's song "Like a Virgin", danced suggestively and each locked lips with Madonna (see Madonna on the 2003 MTV Video Music Awards). Spears' kiss with Madonna attracted huge media coverage that would last for several months.
November 2003 saw the release of Spears' fourth album, In the Zone. Jettisoning the Max Martin-produced synth-pop of her earlier releases, the album took in lesser-known producers such as RedZone and big names including Moby and R. Kelly. Spears co-wrote eight of the album's thirteen songs and co-produced some of her material for the first time. In the Zone went to the top of the U.S. charts in its debut week, making Spears the only female in music history to have her first four albums debut at number one. It has sold over three million copies in the U.S.,[3] and spawned the international number one and U.S. top ten hit "Toxic", which won Spears her first Grammy in the category of Best Dance Recording.
On January 3, 2004, Spears married her childhood friend Jason Allen Alexander at The Little White Wedding Chapel on the Las Vegas Strip in Las Vegas, Nevada. An annulment was promptly arranged and was granted on January 5, ending their fifty-five hour marriage. Spears later said about the spur-of-the-moment event, "Honestly, I really wanted to see what it was like to be married". Spears embarked on her fourth world tour, The Onyx Hotel Tour, the following March. It grossed over $34 million USD and was seen by over 600,000 fans in North America and Europe, but the remaining dates were cancelled in June after Spears reportedly injuring her knee during the filming of the video for the single "Outrageous".
That same month, Spears announced her engagement to dancer Kevin Federline. Federline was formerly in a relationship with actress Shar Jackson, with whom he has two children. On the night of September 18, 2004, Spears married Federline before twenty-seven guests in a surprise, non-denominational ceremony at a residence in Studio City, California. The legitimacy of the marriage was initially questioned, but on November 18, 2004 a representative of the Los Angeles County registrar's office confirmed Spears and Federline had successfully filed their marriage license with the county within ten days of their ceremony and were therefore legally married.
Britney Spears - 2004-2006: Career hiatus
During the latter half of 2004, Spears announced she would be taking another career break in order to start a family. Immediately after her marriage to Federline, she had told People that "I want to be a young mom. Next year, at 23, I'm so there". Although she made few public appearances, the "Britney Spears industry" continued to run itself. In September 2004, she released her first fragrance, "Curious" (a floral scent with vanilla and musk), for which she earned a reported $12 million USD. The fragrance had the biggest debut in sales in history from Elizabeth Arden, breaking the record for first-week gross for a perfume; after one year of sales, the product has netted more than $100 million USD.[4] It ended up as the number one fragrance of 2004 in department stores, and in 2005 it was honored by the Fragrance Foundation as Best Women's Fragrance. Following the success of "Curious", Spears released her next Elizabeth Arden fragrance, "Fantasy" (a fruity scent with flowers and cupcake), in September 2005 which also became a top selling perfume [5] during the Christmas of 2005.
Spears' first hits collection, Greatest Hits: My Prerogative, was released in late 2004. The album debuted at number four on the U.S. charts (becoming Spears' first album to not debut at number one domestically), selling over 255,000 copies in its first week of release. In addition to her biggest hits, it featured three new songs: "My Prerogative" (a cover of the Bobby Brown song), "Do Somethin'" and "I've Just Begun (Having My Fun)". "My Prerogative" and "Do Somethin'" were released as singles to moderate success, and the album has sold over a million copies in the U.S. to date.
During the spring of 2005, Spears' reality show with husband Kevin Federline, Britney and Kevin: Chaotic, premiered on UPN in the U.S. The series included five episodes, and both Spears and Federline were credited as executive producers. Chaotic was panned by most critics, and ratings were not as high as expected. Spears announced her pregnancy via her official website in April 2005. Despite her eagerness to have a baby, she admitted to ELLE magazine that, "I have a feeling I'm going to have an operation. I don't know why. But I hope so. I don't want to go through the pain". On September 14, 2005, 6lb. 11oz. baby boy Sean Preston Federline was born in the Santa Monica UCLA Medical Center in Santa Monica, California by an elective caesarean section.
In late 2005, Spears released a remix album entitled B in the Mix: The Remixes. It lacked promotion of any kind, and debuted outside the U.S. top one hundred with less than 15,000 copies sold in its first week of release.
List of Britney Spears awards, Britney Spears music videos, List of remixes of Britney Spears songs, List of best-selling music artists, List of number-one hits (United States), List of artists who reached number one on the U.S. Billboard Hot 100, List of number-one dance hits (United States), List of artists who reached number one on the U.S. dance chart, List of artists who reached number one in Ireland
Britney Spears - Controversy
Spears' success has rested on a mixed fanbase. Some parents of young girls disapprove of or are even disgusted by Britney Spears. To many critics, the singer has combined a very raunchy public image with a major marketing "play" for the hearts, minds and pockets of prepubescent girls, often as young as seven or eight. Some parents worry that Britney Spears provides an unsuitable role model for their daughters' lives and career plans. In October 2003, Maryland First Lady Kendel Ehrlich, the wife of Governor Robert Ehrlich, was criticized for saying she would like to "shoot Britney Spears" in an address to a domestic violence conference. After her comments made national headlines, she was compelled to apologize.
The sexualized public image of Britney Spears once again became a topic of debate as a result of her 2003 semi-nude photo spread for the men's magazine, Esquire. Prompted by this, Playboy reportedly offered the star over one million USD to pose nude for their magazine, but Spears publicly declined.[6] In an interview with Diane Sawyer, she was asked if she had ever gone further than she wished she had with the sexual photoshoots. Spears responded, "No, I don't think so, no". After the Esquire photos were held up in front of her, she said: "Okay. Now those are a little much. Yeah, those are a little much. That's one picture, I must say, that I felt kind of weird about, yeah".
The 2004 Onyx Hotel Tour brought new criticism. While Spears and her on-stage dancers performed her songs "Touch of My Hand" and "Breathe on Me", they were seemingly nude and were performing routines simulating gay sex, orgies and *****. As there were underage fans in the audience, there was some outrage at the alleged lack of decency of the performances, as well as reports of adult chaperones angrily storming out with children they brought to the concert. Spears has responded to parents' concerns by stating she is "not their babysitter. It's the parents' responsibility. If you don't like it, turn the T.V. off. The only person I want to be a role model is to my sister, Jamie Lynn". (From ABC's Primetime interview with Diane Sawyer.)
Spears has also been criticised for lip-synching. Most critics and musicians publicly express a negative view on this way of performing, arguing that live entertainment should literally be what it suggests, singing included. Some argue that Spears, like other performers, can't practically sing while being engaged in complicated and demanding dance moves.[7]
Britney Spears' personal life has attracted considerable media attention. Some people feel she has courted it by cultivating, in her early years at least, a chaste, God-fearing and "wholesome" image. It was somewhat at odds, not only with the traditional pressures, temptations and opportunities of "pop 'n' roll", but with the increasingly sexualized content of her own songs. Spears' kiss with Madonna at the 2003 MTV Video Music Awards received much media attention, as have her recent marriages. Her public response has been to repeatedly express regret and resentment at the intrusive media coverage.
Britney Spears - Career achievements
* According to the VH1 special The Fabulous Life Of... Britney & Kevin and TIME, Spears has sold over seventy-six million records worldwide.
* Having thirty-one million RIAA-certified albums in the U.S., Spears ranks as the eighth best-selling female artist in American music history.[8]
* Only female artist in SoundScan history to have her first four albums debut at number one on the Billboard 200 chart.
* In the U.S., Spears, Madonna, Céline Dion, Mariah Carey, Whitney Houston, Shania Twain and the Dixie Chicks are the only female artists with multiple diamond (shipped over ten million copies) albums (Spears has two: ...Baby One More Time and Oops!... I Did It Again).
* Holds the record for youngest artist (at age seventeen) to have his or her first single ("...Baby One More Time") and first album (...Baby One More Time) simultaneously reach number one on the Billboard charts.
* Holds the record in the UK for biggest first-week sales for a greatest hits compilation by a female artist (115,341 copies) with Greatest Hits: My Prerogative.
* Has grossed over $145 million USD from tour ticket sales.
* Has grossed over $30 million USD in merchandise from her tours.
* Has topped Yahoo!'s annual list of the most-searched names three times in the past four years.[9]
* Has had more than twenty number-one hits in the Philippines.
Britney Spears - Voice
Although Britney Spears does not have the power of Whitney Houston or the range of Mariah Carey, Britney's sweet vocal style has helped bring the pop soubrette back into popularity.
Britney's voice was seen as distinctive when she first came out in 1998. Although there has been some controversy over her singing abilities, with some even accusing her of lacking them or depending too much on backup singers, her style has remained consistent. Her singing style (although not herself) has become somewhat of a staple in hip-hop music.
Artists such as Ashanti, Solange Knowles and Lea have borrowed a page from her stylebook. Her detractors have accused her of being derivate of Paula Abdul, Madonna and especially Janet Jackson.
This is a claim Spears has not outwardly denied nor confirmed, saying "I grew up loving a wide variety of music." Although her range continues to be disputed and is subject to argument, her classification as a soubrette is due to her singing style, which is light, sweet and girly.
Britney Spears - Trivia
* Has a younger sister, Jamie Lynn Spears, who is an actress and singer, currently starring in the Nickelodeon show Zoey 101. Spears wrote the theme song "Follow Me" for Zoey 101, though it is sung by Jamie Lynn. She has an older brother, Bryan Spears, who is one of her managers. Spears' parents, Jamie and Lynne, are divorced.
* One of Spears' best friends, Jenny, was in the unsuccessful girl-group Innosense. Spears was also a member of the group, but she left and debuted as a solo artist before they released their first record.
* Is an accomplished gymnast. Spears attended gymnastics classes until age nine and during that time she even competed in state level competitions. She also performed a backflip for the "...Baby One More Time" video and several for the New Mickey Mouse Club).
* Spears publicly declared herself a virgin and announced that she would like to remain one until marriage. After her split from Justin Timberlake, he revealed that this was no longer true. Spears has been quoted as saying, "I thought he was the one."
* Had a fling with Colin Farrell and has been romantically linked to Fred Durst, Wade Robson and Columbus Short.
* In 2002, Forbes named Spears the most powerful celebrity in the world.
* Is friends with Natalie Portman. Portman was an understudy in the off-Broadway play, Ruthless!, in which Spears had a role. At a Manhatten hotel in 2003 they co-hosted a carnival-themed New Years Eve party together.
* Topped FHM magazine's 2004 U.S. and world polls for sexiest woman.
* In May 2004 Spears had a Hebrew tattoo (מהש) inked into the nape of her neck. She was under the impression that it meant "new era", while a more scholarly reading would be "protection". A source said, "She's taken Kabbalah pretty seriously and this was a big deal for her." This echoes a similar incident in 2003 when Spears was informed by her friend, actress Taryn Manning, that her hip tattoo (the Japanese Kanji character 奇) read "strange" rather than "mysterious" (see Wiktionary).
* Her numerous other tattoos include pink dice on her inner wrist (her husband, Kevin Federline has matching blue dice), a fairy on her lower back, a daisy on her right toe, a butterfly on her left foot and a Japanese flower that she reportedly got "down there".
* She publicly declared her belief in blind obedience to the President, as reported in an interview on Crossfire and featured in the film Fahrenheit 9/11 by Michael Moore: "Honestly, I think we should just trust our president in every decision that he makes and we should just support that, you know, and be faithful in what happens." [10]. Ironically, Spears and Federline were later photographed coming out of a showing of the Moore documentary in Los Angeles, although it is not known whether Spears was simply viewing the film for legal reasons or because of a possible change of opinion regarding Bush and/or the Second Iraq War.
* Has a character modelled after her on Fairly Odd Parents: Britney-Britney A.K.A. "The Platinum Princess." as well as the movie Monster In Law
2008–present: Conservatorship, custody settlement and Circus
On the evening of January 3, 2008, after not sleeping for over four days, Spears refused to relinquish custody of her children to Federline's representatives. In response, police were called to Spears's home.[131] She was hospitalized at Cedars-Sinai Medical Center after she "appeared to be under the influence of an unknown substance",[132] though blood tests tested negative for any illicit substances.[133] She was held for psychiatric evaluation for two days.[134][135][136] Pending a February 19 hearing, Commissioner Scott Gordon issued an order on January 14 stating that her visitation rights have been suspended indefinitely. On January 31, a court placed Spears under temporary co-conservatorship of her father James Spears and attorney Andrew Wallete, giving them complete control of her assets.[137] As a result of an order placed by her psychiatrist, she was taken to UCLA Medical Center to be put on a 5150 involuntary psychiatric hold for the second time that month.[138] On February 1, a restraining order was issued against Sam Lutfi, a prominent figure in Spears's life.[139][140] She was released from the hospital on February 6, amid speculation that she has bipolar disorder,[141][142] although medical records are classified, and no confirmation has been made. Her parents expressed disappointment and concern at the decision to release her.[143] She has regained some visitation rights after coming to an agreement with Federline and his counsel.[144] On July 18, 2008, Spears and Federline reached a custody settlement in which Federline retains sole custody while Spears keeps her visitation rights.[145]
Vanessa Grigoriadis reported in "The Tragedy of Britney Spears" (2008), her cover story for Rolling Stone, that "more than any other star today, Britney epitomizes the crucible of fame for the famous: loving it, hating it and never quite being able to stop it from destroying you".[146] Grigoriadis wrote that "every day in L.A., at least a hundred paparazzi, reporters and celebrity-magazine editors dash after her" and that paparazzi estimated Spears generated "up to twenty percent of their coverage for the past year".[146] She further documented that in addition to tabloid journalists, the Associated Press declared that everything Spears does is considered news.[146] "The paparazzi feed the celebrity magazines, which feed the mainstream press, while sources sell their dirtiest material to British tabloids, and then it trickles back to America," wrote Grigoriadis, "She's the canary in the coal mine of our culture, the most vivid representation of the excess of the past decade."[146]
In 2008, Spears guest-starred on CBS's television show How I Met Your Mother playing a receptionist.[147] She received positive reviews for her performance as well as bringing in the series' highest ratings ever.[148][149] Spears reprised her role in May 2008, leaving the storyline open for a future return.[150]
On September 7, 2008, Spears opened the MTV Video Music Awards for the third time. Although having not performed, a skit with Jonah Hill was pre-taped, as well as an introduction speech to the official opening of the show. Spears won Best Female Video, Best Pop Video and Video Of The Year for "Piece of Me".[151] On September 15, Jive released a statement announcing the title of her sixth studio album, Circus as well as the first single, "Womanizer". The single was released to radio stations on September 26, and the release date for the album is December 2, Spears' 27th birthday.[152] On October 15, the song made a record-breaking jump to number one on the Billboard Hot 100, breaking the record set by T.I.'s Live Your Life. It also garnered first-week download sales of 286,000, the biggest opening-week tally by a female artist since Nielsen SoundScan began tracking digital downloads in 2003. It marked Spears's first number one single on the Hot 100 since her debut, "...Baby One More Time".[153]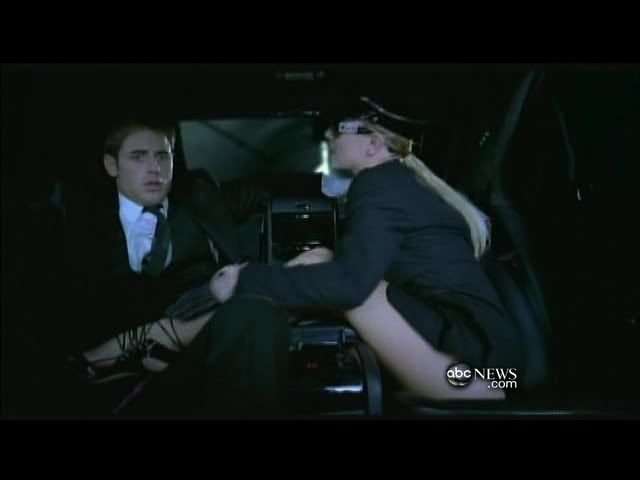 On October 21, 2008, Los Angeles Superior Court Judge James Steele declared a mistrial and dismissed the August 2007 driving without a license misdemeanor charges against Spears, who was represented by attorney J. Michael Flanagan. Spears claimed she had a valid Louisiana license and a California permit was not required.[154][155]
On November 6, 2008, Spears won two awards at the MTV Europe Music Awards 2008, "Album of The Year" for Blackout and "Act of 2008",[156] and despite not being present, two acceptance videos were taped and shown at the show.[157][158] Circus debuted at number one on the Billboard 200 selling 505,000 copies in its first week. This became Spears' fifth number one album, making her the only act in Nielsen SoundScan history to have four albums debuted with 500,000 copies or more.[159] It is also Spears' second album, the first being ...Baby One More Time, to have charted two top-ten singles as "Circus", the follow up single to the number-one hit "Womanizer", debuted at number three on the Hot 100, making it her highest debut on the chart as well as her seventh top ten hit.
http://www.experiencefestival.com/a/Britney_Spears/id/1939083
http://en.wikipedia.org/wiki/Britney_Spears