Home
›
PEx Hobbies
›
Music Fans
Speak your mind, but mind what you post. Let's not spread disinformation and/or misinformation.
Still KYLA… For The Rest Of Our Lives PART VIII
spoiled_angel
PExer
Still KYLA… For The Rest Of Our Lives PART VIII Page 1
>>>
KylaOnline (Official Website)
<<<
KYLA
Beautiful Days with KYLA...part II
Keeping It Real...Kyla part III
--StiLL kEepiNg it rEaL... KYLA pArt IV--
Soulfully Heartfelt...KYLA..part V
SoulfuLLy cRazY!!!...KYLA...PART VI
KYLA: True Blue R&B Royalty PART VII
Kyla
is the ultimate R&B princess; she is R&B and was tagged R&B when R&B really meant rhythm and blues. That was a time when R&B meant you have a powerful yet soulful voice. Today, R&B singers are like pre-paid card centers. They are everywhere, convenient and soooooooooo affordable. They come in different features and values. But you know that only the real ones, like Kyla will last forever.
There is definitely more to Kyla than not just being an ordinary girl. She is now a woman in every sense of the word….as evidenced in her sixth album titled
Heartfelt
. Here she shares a side no one has ever seen or heard before…more sultry, more alluring, more soulful (yes, it's possible), and yes…more heartfelt.
Soul 2 Soul
– First, let's get things out of the way. Everyone knows Kyla's real name is Melanie Hernandez Calumpad (she was christened Kyla by EMI's Francis Guevarra when a recording demo for a Metropop song landed on his lap by fate) and everyone knows she passed through the amateur singing contest route to gain fame (from Tanghalan ng Kampeon to Yamaha Music Quest to Metropop Young Singers Competition). Heck, everyone knows she was even part of the afternoon variety show That's Entertainment (Tuesday group).
But not many know that Kyla is a true-blue-dye-in-the-wool soul singer. Growing up, Kyla was listening to Ella Fitzgerald, Billie Holiday and Aretha Franklin. It was through these soul legends that Kyla developed her knack for singing. And even before Beyonce heard of Dreamgirls, Kyla was fulfilling her dreams as evidenced in Tanghalan ng Kampeon winning moment which was her powerful interpretation of I Am Changing.
Kyla is Changing
– Listening to Kyla's discography, you would know that she has definitely developed from a simple girl with a great voice to an earthly and soulful woman with powerful pipes and commanding stage presence. She was compared to then teen sensations Brandy and Aaliyah when she was starting out. But now, her range has become wider, making her one of the more versatile and stronger performers in the country…. More now like her other idols Toni Braxton, Mariah Carey, Mary J. Blige, and Whitney Houston. Not bad for a woman who's a whole lot younger than them.
Admit it, you think of those women when you think of soul. And admitting Kyla is in that list is certainly not far-off.
Soul Awards
– It's not surprising that because of her talent, Kyla is one of the most awarded singers in the country. Her winning streak as a professional singer started with her breakthrough single, Hanggang Ngayon. Besides topping the radio charts and boosting sales of her debut album, the song's music video (directed by Lyle Sacris) brought home the
2001 MTV Pilipinas Awards Best New Artist and Video of the Year awards for Kyla.
The video went on to win the MTV Southeast Asia Video Music Award, beating out entries from Indonesia, Malaysia and other countries. Kyla even has six Awit Awards and earned a roomful of trophies given by various radio stations and magazines that range from Best Female Singer to Breakthrough Artist of the Year. Of course, one cannot discount the numerous Gold and Platinum awards Kyla has received for her albums.
As a result of Kyla shining on her own, a lot of the world's premier artists were invited to collaborate with the R&B singer. From Freestyle to Gary Valenciano to Keith Martin and Blue and Fralippo Lippi, Kyla can certainly step it up and perform side-by-side with the best.
Soul Revivals
– Kyla's sixth album Heartfelt (released by EMI-Philippines) is a compilation of revivals of well-known songs. Many of them are pop classics sprinkled with the Kyla touch – meaning sultry and of course, soulful. Lani Hall's I Don't Want You To Go, Taylor Dayne's Love Will Lead You Back, James Ingram's I Don't Have The Heart, Luther Vandross' Always and Forever, Joey Albert's It's Over Now, among others are given a modern twist with Kyla's stylings.
Even contemporary songs such as Brandy's Brokenhearted, Allure's Last Chance, Celine Dion's With This Tear etc. are given a fresh feel by Kyla. And of course, another stand-out track is Over The Rainbow – yes, that classic song written and originally sung by Judy Garland and Patti Labelle.
It can be remembered that through this song, Kyla showed her vocal range in a showdown with her contemporaries at the Regine Velasquez's Reigning Still concert at the Araneta Coliseum. It was even cited in Wikipedia that with her spectacular performance of Over the Rainbow, Kyla ended up winning the audience approval as "the heir to popular artist Regine Velasquez."
While a lot of singers have done their own version of this immortal song, from Patti La Belle to Aretha Franklin, Kyla certainly made this song her own with a cool and contemporary arrangement of the song without losing the original's magic.
The album is definitely a must for music lovers as each track is magical. The album illustrates the immense talent of Kyla. The album showcases Kyla's maturity as a singer as evidenced in her voice that creates a largely up-tempo, thrillingly melodramtic set that takes different views of matters of the heart. The re-arrangements of the songs echo the feverish passion of Kyla.
Kyla is definitely no an ordinary girl. She's a singer, host (Popstar Kids in QTV and SOP in GMA), song-writer, concert performer, R&B princess, music video artist and a whole lot more. And with the release of Heartfelt, she can definitely be called something that has eluded her throughout her years in the business. With a newfound maturity, not only through her voice but even in her look, Kyla can definitely now be called a
WOMAN.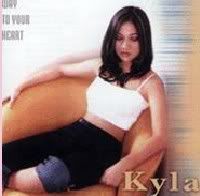 Way To Your Heart
Philippine Copyright 2000 by Octo Arts EMI Music, Inc.
1. Bring It On
2. Nasan Ka
3. Lost In Paradise
4. Summertime
5. Blind
6. Hanggang Ngayon
7. One More Try
8. All I Need Is You
9. Something Special
10. Way To Your Heart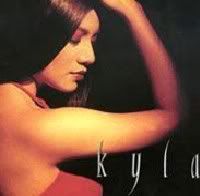 Kyla
Philippine Copyright 2002 by EMI Philippines, Inc.1. I Feel For You
2. Oooh Your Love
3. Ibalik Ang Panahon
4. I'm Into You - Composed by KYLA
5. Umulan Man O Umaraw
6. Bakit Ikaw Pa
7. Tanging Pag-Ibig Ko
8. This Day.. - Composed by KYLA
9. Sa Iyong Paglayo
10. Ikaw Pa Rin
11. 'Til I Got You
12. Hanggang Ngayon (Remix)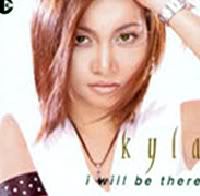 I Will Be There
Philippine Copyright 2003 by EMI Philippines, Inc.1. I Will Find You
2. Bounce - Kyla featuring Razor Ray
3. I Will Be there
4. Let Go
5. Always On Time
6. Bakit Wala Ka Pa
7. Let You Go - Kyla featuring Razor Ray
8. Maghihintay Lamang
9. Love To Hate
10. Walang Iba
11. Here I Stand
12. With You
13. Sana'y Maulit Muli - Kyla with Gary Valenciano
14. Flexin' - Kyla with Blue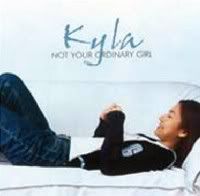 Not Your Ordinary Girl
Philippine Copyright 2004 by EMI Philippines, Inc. and Polyeast Records
1. Someone To Love
2. Human Nature
3. When I'm With You
4. Make Me Whole
5. Not Your Ordinary Girl - feat. Jimmy Muna
6. If The Feeling Is Gone
7. Only For You - with Keith Martin
8. What More Can I Say
9. Making Me Crazy
10. Till They Take My Heart Away
11. Something About You - featuring Thor
12. Hindi Mo Ba Alam - featuring PKSO
13. I'm All Yours
14. Buti Na Lang
15. Because Of You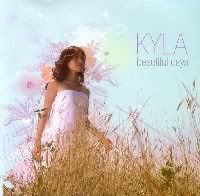 Beautiful Days
Philippine Copyright 2006 by EMI Philippines, Inc.1. Beautiful Days - Composed by KYLA2. Cupid3. Ngayong Wala Ka Na
4. Doin' Just Fine
5. Nasaan Ka Na
6. I Wish I Wasn't
7. Feel
8. The Hurt I'd Go Through
9. Love Is
10. I Wish You Love
11. How Am I Gonna Tell – Composed by KYLA
12. Without You
13. Now And Forever
14. Say That You Love Me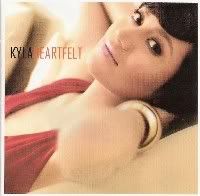 Heartfelt
Philippine Copyright 2007 by EMI Philippines, Inc.
1.
I Don't Want You To Go
2. Love Will Lead You Back
3. I Don't Have The Heart
4. Broken Hearted
5. Home
6. I Miss You So Much
7. Always And Forever
8. Wait For You
9. Somewhere Over The Rainbow
10. One Day In Your Life
11. Someone
12. Last Chance
13. With This Tear
14. If I Were You
15. It's Over Now
16. For You
17. Somewhere Over The Rainbow (Alternate Version)
This discussion has been closed.