Home
›
PEx Campus
›
Mapua Institute of Technology
Mapua Unplugged
tophe_17
PExer
CENTRAL STUDENT COUNCIL
COUNCIL OF ORGANIZATIONS AND COUNCIL OF PRESIDENTS
IN COOPERATION WITH GREENPEACE SOUTHEAST ASIA-PHILIPPINES
[HIGHLIGHT]MAPUA UNPLUGGED[/HIGHLIGHT]
A FREE DAY FOR THE ENVIRONMENT
NOVEMBER 29, 2007
Description:
A WHOLE DAY EXTRACURRICULAR ACTIVITY THAT IS A FREE DAY FOR THE STUDENTS IN WHICH THAY ARE EXPECTED TO COME TO SCHOOL AND ATTEND THEIR CLASSES ONLY FOR THE CHECKING OF ATTENDANCE.
Objectives:
To promote environmental awareness in the academe.
To provide a day of relaxation to the whole Mapua community.
To raise funds for the adoption of trees in the La Mesa Ecopark and for the installation of a Solar Panel that will provide electric power to the student pavilion.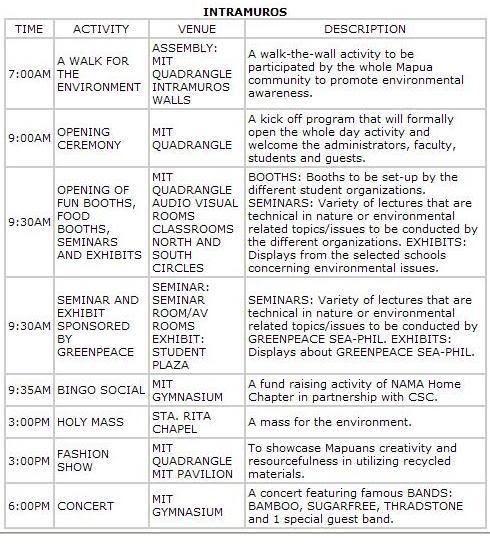 Eto pala ang new version ng MAPUA ON-SALE. Nice.
*okay*