Home
›
PEx Local Entertainment
›
Showbiz - Loveteams
Reminder: You never know what someone is going through, so be kind.
.:.[the Mighty JilWyn Nation] - Crazy for Jill & Alwyn - Residence 4 .:.
jill_o17
PExer
:spinstar: [highlight]Welcome to the 4th Thread of The Mighty JilWyn Nation
- Home of the JILWYNians/ites/istas Crazy for Jill and Alwyn! -[/highlight]
(courtesy of msbaby)
Past Threads:
Residence
One
|
Two
|
Three
[URL=]Jill Yulo Thread[/URL]
Alwyn Uytingco Thread
Sites:
The JilWyn Shrine
The JilWyn Nation Forum
The Netizens of the Nation:
(courtesy of kezZen)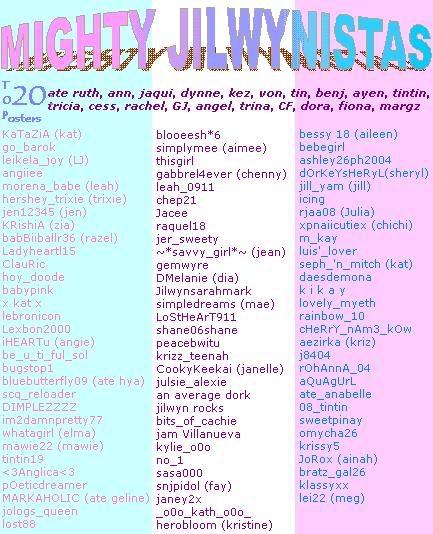 If you would like to be added to the list, please post an entry or PM kezZen.
[highlight]HAPPY JILWYN POSTING, JILWYNISTAS!!![/highlight]
[highlight]NEWS[/highlight]
-- Tiyanak on July 4
-- Maria Flordeluna on it's last weeks
-- Jill in Woman's Journal June 11, 2007