Home
›
PEx Hobbies
›
Anime and Manga
Philippine NANA Day
hideto matsumot
PExer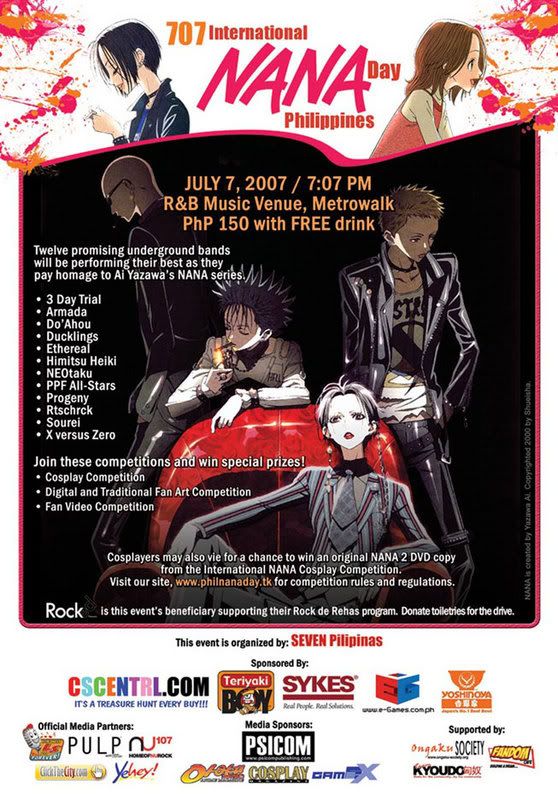 On July 7, 2007, SEVEN Pilipinas and will be presenting "707" International NANA Day – Philippines at R&B Music Venue, Metrowalk. "707" will be a night of great music, in vogue fashion and excellent craftsmanship.
"707" presents a rock concert paying homage to the series NANA by Ai Yazawa Sensei. Songs from NANA original soundtrack and tribute albums will be performed by the bands 3 Day Trial, Armada, Do'Ahou, Ducklings, Himitsu Heiki, Neotaku, PPF All-Stars, Progeny, Rtschrck, Sourei, This Side Up, and X Versus Zero.
Announcements of "707" competitions will be done between live performances of the bands. They will be from the Cosplay Competition, Fan Art Competition and Fan Video Competition. Rules can be found at
www.philnanaday.tk
.
The Cosplay competition has three categories: Individual Female, Individual Male, and Group. Individual Cosplayers may dress up as a character in any of Ai Yazawa's creation. While the Group Cosplayers may only dress up as Black Stones or TrapNest, the two bands with whom the story revolves around with.
Fan Art Competition entrees can be classified into two categories. In Traditional Art, NANA inspired art entrees are all drawn, colored and finished by hand. Digital Art entrees are either hand-drawn NANA inspired art or taken from official NANA art, edited and masked digitally by using photo-editing softwares (e.g., Adobe Photoshop, Corell Draw, etc.)
Fan Video Competition takes entrees with a montage of clips from the anime and/or movie, a slide show of clips of manga or live action parody of any NANA scene over any music of the entrants' choice.
This event aims to gather, not only NANA or Ai Yazawa fans, but also people who likes great music, wonderful story telling, and enticing visuals to celebrate art. Especially art that transcends language and culture, uniting a force that breaks barriers.
Percentage of the proceeds will go to RockED's program Rock de Rehas, a project to support prison inmates.
International NANA Day was proposed by fans of the series NANA by Ai Yazawa early this year. Major online NANA groups gathered organizers from all over to produce a worldwide NANA day. Here in the Philippines, SEVEN Pilipinas has taken the responsibility in producing an unforgettable NANA day.
"707" International NANA Day – Philippine is brought to you by SEVEN Pilipinas and its Official Media Partners: ClickTheCity.Com, Yehey.Com, NU 107.5 FM, Baranggay LS 97.1, Pulp Magazine, Burn Magazine, and PSICOM Magazines namely Otakuzine, Cosplay Mag, and Game Ex.
For questions about this event, please feel free to contact SEVEN Pilipinas at 0927-8180601 or
[email protected]
. For information on NANA the series, Ai Yazawa and the event, please visit
www.philnanaday.tk