Home
›
PEx Local Entertainment
›
Showbiz - Loveteams
The Ultimate TOPAK Loveteam Thread #33: Mark and Jennylyn: 3 years and STILL counting
TOPAKS
PExer
Welcome to The Ultimate TOPAK Loveteam Thread #33: Mark and Jennylyn: 3 years and STILL counting!!!!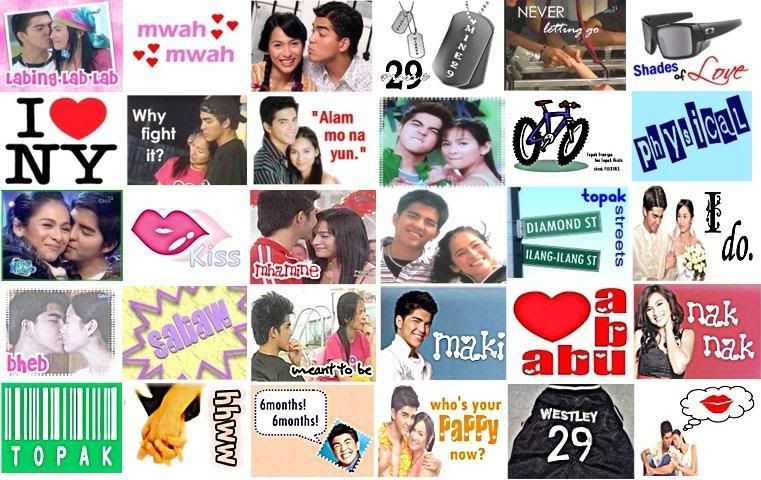 Since its April 29...A very special day for the
Topaks
! Here are our messages for Mark and Jen! our forever topak inspiration....
[HIGHLIGHT]Happy 29th!!!
[/HIGHLIGHT]
---
A new loveteam on the block? Who cares about them? I must say "Not me!" for over 3 years now I'm loyal to my one and only loveteam. They may be far from perfect but I'm sure that their imperfections are one of the factors why I loved them. They are so WYSYWIG (What you see is what you get). And that loveteam is Mark and Jen. And I have these words for the two of them...
For your career...
Dream...Believe... Survive. Dream bigger for there are more horizons to conquer in your chosen career. Believe that every intrigue that you are facing is just another step towards victory. Survive the hurdles but always remember those people who helped you through it all.
For your personal lives...
Just remember that once in your lives you have met each other and shared good memories together. I just hope that the love and the friendship that you have invested will not go down the drain just because of other people who are involved. You are not a loveteam nor a couple anymore but I hope that you will still face problems hand in hand because as you always say... your "FRIENDS".
Cheers to 3 glorious years handful of irreplaceable
memories that will stay in our minds forever :cheers:
Happy 29th to Mark and Jen... and to everyone who stood by them
-
Cha
---
To: Mark and Jen....Let's get physical!! I love new york!! hahaha!!
- Mamasan
---
In the years that we've supported Mark and Jen, we have witnessed their joy, pains and bitterness. We may not understand them most of the time, and probably never will, but for us that's enough. Thank you for continuously sharing a part of your life with us. We'll always be here to support you. Topaks 4ever!
- Jady
---
im glad that you are both doing well in your individual careers... but i would not be a topak for nothing if i wont wish to see you together again in the future......oncam BUT most especially offcam... luv you both!
- Tina
---
Thank You!!!
- Yori
---
Stay happy! thats the most important thing. Say what you feel, feel what you say! Thank you for everything!! Most esp. the kiligs and katopakans! GoodLuck to the both of you! We're always here for you! Love u both lots!
- Jhie
---
mark & jen, nandito lang kaming topaks para sa inyo.... through thick or thin, kahit anong mangyari nandito lang ako, kami, sumusuporta at naghihintay..
happy anniversary at kita-kits sa simbahan!
- Joanna
---
ang haba na ng panahon na lumipas pero nalampasan nyo kahit papano ung mga problema b4, hope sa mga darating pa makaya nyo,,,and2 lng ako, lagi TOPAK sa inyong dalawa MARKJEN! aabangan ko ang mga katopakan ha na inaasahan ko?hehe Happy anniversary.....i love 29......!
- Jandz
---
Hello Mark & Jen.Sana more projects to come para masubaybayan ko kayo =] Dati hindi ako nanunuod ng TV hanggang lumabas na kayo kaya gusto ko sana makita na kayo
-Oreo
---
hi mark! hi jen! HAPPY ANNIVERSARY! hahaha. sana maging successful parin kayo sa career niyo!! sana more projects to come and more . sana maging okay ang relationship niyo okey lang kungaway ng away basta bati agad. always remember na nandito lang ang topaks anytime you need us! more SABAW!!!!
-teresa
---
mark and jen...you guys have known each other for more than 3 years at madami na din kayong pinagsamahan...sana lang you won't let anybody ruin the relationship you guys had, have, or having..it may be as friends or more than friends, whatever it is..just stay close to each other..
- Ruthie
---
MEMORIES play a very confusing role.They make you laugh when you remember the time you cried together, but make you cry when you remember the time you laughed together.
"Make love till eternity"
-shiela
---
The Story of US - Mark and Jennylyn
c/o Mamasan from Thread 29!
---
Thank you everyone for sharing your message(s) for Mark and Jen! and Yori for the wonderful fanart!!!
Happy 29th Everyone!!!!!!
This discussion has been closed.