Home
›
PEx Local Entertainment
›
Showbiz - Female Celebrities
LaBers' Park ♥ John Lloyd & Bea ♥ LaB for LIFE...THROUGH TAGTU. [ch. 53]
zashee26
O ♥ K
PExer
LaBers nina John Lloyd at Bea… Dito Tayo sa LaBers' Park!!! :bounce:
Halina't mamasyal… maglaro… magpagulung-gulong sa saya…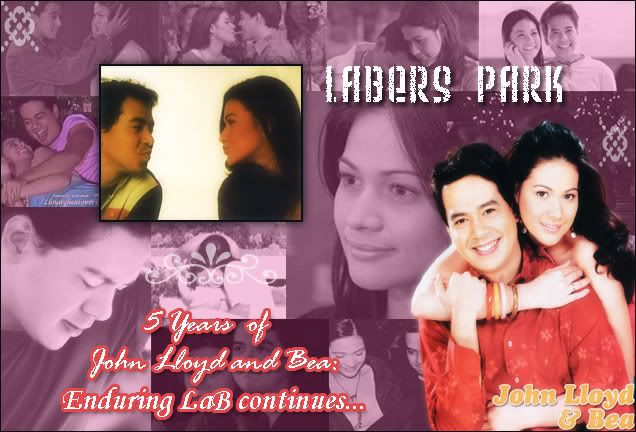 LaBers
(noun, pl.) -
L
loydy
a
nd
B
ea lov
ers
Love is the purpose behind everything. We all know the intimate yearning. We keep our eyes open to the vision. Together, we weave together a golden thread of hope and conviction that keeps us passionately driven. This is the golden thread of our passion, the source of peace and our strengths — the very conviction of our souls.

In sharing of life's most simple pleasures, we find the deepest awakening of love and joy and true magic. And it is these dream-filled moments that our hearts take with us throughout the journey. Our hearts are full of treasures untold. Each thread is a precious and golden moment God gives to us — one to be cherished and to remind us of the love, wonder, and surprises that wait for us all through our lives.

We all share in the quest.

-- Contributed by Dandelions, Inspired by Flavia quotes
The word is
"LaB"
L
ife is
a
lways
B
eautiful with
L
loydy
a
nd
B
ea...
L
ove
a
nd
B
e loved...
LaB always wins...…………..
LaBers, keep posting…
Ituloy ang LaBing-LaBing…
Spread the
LaB
………………………… :heartpump:

John Lloyd & Bea Tandem Thread the sequel {06.06.03 – 02.03.05}
John Lloyd & Bea Tandem Thread Part 3 {02.03.05 - 04.06.05}
John Lloyd & Bea Tandem Thread Part 4 {03.19.05 - 04.17.05}
LaBers' Nest: Lloydy & Bea Lovers' Nest Part 5 {04.17.05 - 05.20.05}
LaBers' Nest: Lloydy & Bea Lovers' Nest Part 6 {05.17.05 - 06.01.05}
LaBers' Nest: Lloydy & Bea Lovers' Nest Part 7 {05.30.05 - 06.13.05}
LaBers' Nest: Lloydy & Bea Lovers' Nest Part 8 {06.10.05 - 06.20.05}
LaBers' Nest: Lloydy & Bea Lovers' Nest Part 9 {06.10.05 - 07.06.05}
LaBers' Nest: Lloydy & Bea Lovers' Nest Part 10 {06.29.05 - 07.10.05}
LaBers' Nest: Lloydy & Bea Lovers' Nest Part 11 {07.11.05 - 07.21.05}
LaBers' Park: Lloydy & Bea Lovers' Park Part 12 {07.20.05 - 07.28.05}
LaBers' Park: Lloydy & Bea Lovers' Park Part 13 {07.28.05 - 08.12.05}
LaBers' Park: Lloydy & Bea Lovers' Park Part 14 {08.04.05 - 08.14.05}
LaBers' Park: Lloydy & Bea Lovers' Park Part 15 {08.11.05 - 08.21.05}
LaBers' Park: Lloydy & Bea Lovers' Park Part 16 {08.19.05 - 08.27.05}
LaBers' Park: Lloydy & Bea Lovers' Park Part 17 {08.27.05 - 09.05.05}
LaBers' Park: Lloydy & Bea Lovers' Park Part 18 {09.05.05 - 09.11.05}
LaBers' Park: Lloydy & Bea Lovers' Park Part 19 {09.11.05 - 09.19.05}
LaBers' Park: Lloydy & Bea Lovers' Park Part 20 {09.19.05 - 09.28.05}
LaBers' Park: Lloydy & Bea Lovers' Park Part 21 {09.28.05 - 10.12.05}
LaBers' Park: Lloydy & Bea Lovers' Park Part 22 {10.12.05 - 10.28.05}
LaBers' Park: Lloydy & Bea Lovers' Park Part 23 {10.28.05 - 11.10.05}
LaBers' Park: Lloydy & Bea Lovers' Park part 24 {11.10.05 - 11.23.05}
LaBers' Park: Lloydy & Bea Lovers' Park part 25 {11.23.05 - 12.03.05}
LaBers' Park: Lloydy & Bea Lovers' Park part 26 {12.03.05 - 12.20.05}
LaBers' Park: Lloydy & Bea Lovers' Park part 27 {12.20.05 - 01.11.06}
LaBers' Park: Lloydy & Bea Lovers' Park part 28 {01.11.06 - 01.28.06}
LaBers' Park: Lloydy &Bea Lovers' Park part 29 {01.28.06 - 02.08.06}

LaBers' Park: Lloydy & Bea Lovers' Park part 30 {02.08.06 - 02.24.06}

LaBers' Park: Lloydy & Bea Lovers' Park part 31 {02.24.06 - 03.13.06}
LaBers' Park: Lloydy & Bea Lovers' Park part 32 {03.13.06 - 03.31.06}
LaBers' Park: Lloydy & Bea Lovers' Park part 33 {03.31.06 - 04.19.06}
LaBers' Park: Lloydy & Bea Lovers' Park part 34 {04.19.06 - 05.05.06}
LaBers' Park: Lloydy & Bea Lovers' Park part 35 {05.06.06 - 05.19.06}
LaBers' Park: Lloydy & Bea Lovers' Park part 36 {05.19.06 - 06.05.06}
LaBers' Park: Lloydy & Bea Lovers' Park part 37 {06.05.06 - 06.23.06}
LaBers' Park: Lloydy & Bea Lovers' Park part 38 {06.23.06 - 07.09.06}
LaBers' Park: Lloydy & Bea Lovers' Park part 39 {07.09.06 - 07.29.06}
LaBers' Park: "Better Together" part 40 {07.29.06 - 08.16.06}

LaBers' Park: "Better Together" ch. 41 {08.16.06 - 09.08.06}
LaBers' Park: "Hope Floats" ch. 42 {09.08.06 - 10.02.06}
LaBers' Park: "Eli & Jackie" ch. 43 {10.02.06 - 10.21.06}
LaBers' Park: "Eli ? Jackie" ch. 44 {10.21.06 - 11.10.06}
LaBers' Park: "Don't stop believing" ch. 45 {11.10.06 - 10.26.06}
LaBers' Park: Eli-Jackie, Love and Memories ch. 46 {10.26.06 - 12.15.06}
LaBers' Park: Eli-Jackie lang in Maging Sino Ka Man ch. 47 {12.15.06 - 01.04.07}
LaBers: Steadfast & Strong in 2007. Keeping the Faith in John Lloyd & Bea ch. 48 {01.04.07 - 01.25.07}
LaBers' Park: John Lloyd and Bea... "Love Conquers All" ch. 49 {01.25.07 - 02.24.07}
LaBers' Park: 5 Years & 50 Threads of John Lloyd & Bea... the LaB Endures {02.24.07 - 03.07.07}
LaBers: John Lloyd and Bea, the Enduring LaB Continues ch. 51 {03.07.07 - 04.01.07}
LaBers: John Lloyd and Bea, the Enduring LaB Continues ch. 52 {04.01.07 - 04.25.07}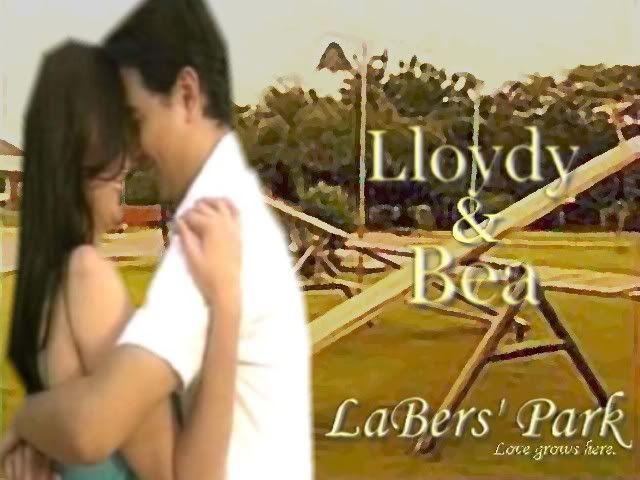 Other Bea-John Lloyd Forums:

John Lloyd and Bea Collective
Bea Alonzo and Beyond
LaBers' Park @ ABS-CBN Interactive
Eli & Jackie Site
BBG's Maging Sino Ka Man Forum
Pinoyexchange TV & Movie Threads:
TV Soaps:
Maging Sino Ka Man Part 1
Maging Sino Ka Man Part 2
Maging Sino Ka Man Part 3
MOVIES :All About Love
PACMAN: the Manny Pacquiao story
Close To You
Dubai
Dreamboy
Now That I Have You
Leave a Comment