Home
›
PEx Local Entertainment
›
Showbiz - Female Celebrities
COMMUNITY NOTICE: Please send your reports, concerns and other inquiries to admin "pexer99". This account will
handle all community functions for PinoyExchange. You can also email us at [email protected] For category related concerns, you can also send a message to one of our moderators. Check the updated list of moderators here.
~♥ Pop Star Princess ♥~ Sarah Geronimo Kingdom [5]
chailee
BloodSucker/RADDICT
PExer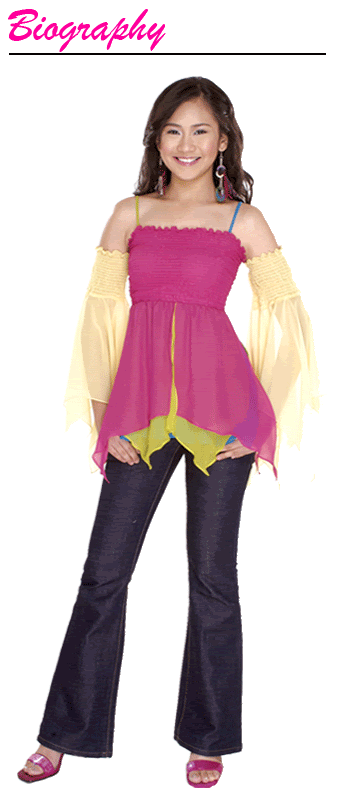 [highlight]Sarah Asher Geronimo[/highlight] was born on July 25, 1988 to
Father Delfin Geronimo, a retired PLDT employee, and
mother Divina, who used to run a beauty parlor in
their house at Sta. Cruz, Manila. Sarah is the third
of four children with siblings Johna Rizzie, Sunshine
Grace, and Ezekiel Gabriel.

Sarah's first music lessons came from her father. He
would have her practice everyday to develop her
singing prowess. Sarah first sang on stage at age two
at a mall show. Sarah sang "Pasko Na Naman" with
Pinky Marquez and Richard Reynoso. At four years old,
mother Divine would accompany her to auditions for
different TV programs. Sarah became part of kiddie
shows Pen-pen de Sarapen (4-6 years old), Ang TV (7-8
years old), and NEXT (8-9 years old). In between
auditions, Sarah would perform at shopping malls and
hotel lounges. She was one of the performers during
the 1995 visit of Pope John Paul II. Sarah at an
early age joined hosts of different singing contests
the first of which was Tuklas Talino sponsored by the
Philippine Long Distance Telephone Company (PLDT).

Star For A Night hosted by Ms. Regine Velasquez was
arguably the singing contest that catapulted Sarah to
stardom. On March 1, 2003, at age fourteen Sarah
emerged as the grand prize winner of the said singing
competition with her rendition of the song "To Love
You More." She won P 1 million and a managerial
contract at Viva Artist Agency. The prize money was
spent on tuition fees and the operation of her eldest
sister.

After this turning point what followed are albums,
concerts, her own soap opera, a mainstay at ASAP (a
Sunday variety show), supporting roles in movies,
endorsements, and legions of fans. She became a
popstar, a teen princess, a role model.

Sarah paved the way for the next generation champion
singers. They are Mark Bautista, Rachelle Ann Go,
Raymond Manalo, Erik Santos, Sheryn Regis, Christian
Bautista, Frenchie Dy, Jerome Sala, and more still
competing. At ASAP, champion singers show off their
winning form at Champions Showdown.

When not busy being a popstar, Sarah spends time with
her family, they go to Sunday mass. Sarah enjoys
reading J. K. Rowling's Harry Potter, and plays video
games.
AWARDS AND RECOGNITION
- PLDT Hall of Fame 97-99 Awarded –December 9, 2000
- PLDT Tuklas Talino Awarded – December 5, 2002
- Star For a Night Grand Champion – 2003
- Star Girl 2003
- Outstanding Manilans – 2004
- Nickelodeon Kids Choice Award – Pinoy Wannabe
- Aliw Awards Foundation - Most Promising Female Entertainer Award – 2004
- 17th Awards Foundation – Best Performance by a New Female Recording Artist – 2004
- Gawad KKK Outstanding Female Role Youth Model in Entertainment – 2004
- 36th Box Office Awards Night – Guillermo Foundation – Most Popular Female Recording Artist – 2005
- Best Female Platinum Artist ASAP – 2005
- ASAP Pop Viewers Award – Pop Song of the Year "I still Believe in Loving You" – 2006
- ASAP Pop Viewers Award – Pop Album of the Year "Becoming" – 2006
- Anak TV Seal Award – Most Well Liked Female Personalities – 2006
- Anak TV Seal Award – Most Well Like TV Program – Bituin Walang Ningning – 2006
- Hitmaker of the Year – Yes Magazine Reader's Choice Awards - 2006
ALBUM SALES
POPSTAR DREAM COME TRUE
Platinum Award – October 2003
Double Platinum
Quadruple Platinum – June 2004
Quintuple Platinum – November 2004
6X Platinum – December 2005
SWEET SIXTEEN
Platinum Award – January 2005
Double Platinum – August 2005
BECOMING
Gold Award – September 2006
Platinum Award – October 2006
STAR FOR A NIGHT
– Gold Award – June 2003
THE OTHER SIDE
– Platinum Award – 2006
BITUIN WALANG NINGNING
– Gold Award – July 2006
Sarah from A to Z.....
by: marshybear
A-ALIW
~ everytym i watch her shows i've always got amused, kse lage xa nkatawa tska kung bumirit s pagpptawa, maaaliw k talga . At isa p nanalo xa sa Aliw Awards as Most Promising Female Artist year 2004(at maraming png awards, di n mabilang)...
B-BUNGISNGIS
~ dahil palatawa xa, lageng nkbungisngis!
C-CHARMING
~ i really find her very charming in short "maganda". Kaya it suits her the product she endorses "charmee".
D-DEDICATED
~ She's dedicated to her family & to her career! And i salute u dat sarah!!!
E-ENTERTAINER
~ a complete package of entertainment!!..kahit mgdamag p xa mgshow hindi xa nkakasawa for me.
F-FAN
~ fan na fan xa nina Regine V. at Celine dion kaya ngging katulad n xa s mga ito...to the highest level ang success. At ako naman avid fan nya & she's so mabait sa mga fans nya pag may 2matawag s knya talagang kakaway pa yan at ngingiti sau ng ubod tamis...gusto ko n ngang mahimatay nung ginawa nya un sken e, kc first time ko pa lng xa mameet dat tym at na-starstruk talaga me nun..,d ko inakalang mas gaganda pa xa sa TV.
G-GROWN-UP
~ from a teener, she's now a grown-up girl after she turns 18 on July 25. Altho she still has that "child-like" behavior. Nga pla she grows taller at the height of 5'4" now, maybe sumday she'll reach 6ft.(hehe!) O db beauty queen ang dating!..Pwede!!!
H-HARRY POTTER
~ led by Daniel Radcliffe na crush na crush ni sarah! C Leonardo di Carpio din! Ang hilig pala s mga superpogi tong si sarah..ung tipong hindi ma-reach kaya wish ko sumday pagpumunta xa ulit sa US mkdate n nya tong mga guy na'to...I really want her to be hapi kc nssktan ako pgnssktan din xa lalo n s mga [intrigang di nman tru...
I-IRRESISTABLE
~ i can't get enuf of sarah! it's lyk my day will not be complete if i don't get any news /issues about her kaya almost everyday i open her website to know if there's sumthing new or any upcoming projects. Khit sira n PC namen, at busy s pg-aaral, i really find time to rent nearby.
J-JOLLIBEE
~ another endorsement that suits her too coz she's a "jolly" person. Like jollibee, she has that cheek bone. Me too! kaya love n love ko cla pareho!
K-KILIG
~ She used to giggles ( as sign of kilig) evrytym she's been paired with guys esp. mark b. Of cors ako din, i get kilig also lalo na sa BWN with Carlo A. Ang swerte tlga ng idol ko mga cutie pie nalilink s knya like now, cna Jake cuenca at Luis manzano type daw xa! Ay sobra n'to!! gang tuhod n hair ni sarah!...at isa png K as
KALOG
~ Sbe ni sarah s isang nterview, makulet daw xa nung bata p xa, di mktigil s isang tabi, iniikot nya mga klasmeyts nya at kinakausap. Talagng nature n s knya ang mangulet khit nga gang ngaun pag vibes nya mga ksma s set,mkikita m s cam. lalo n s mga bata,nkikipghabulan pa yan! db sarah?!
L-LOVE
~ her love for music. i know ala p xang lovelife khit 18 n xa kse bilin ni mother dear wen she turns 22 pa xa pwede! Oks lng naman daw kay sarah un, tska s tngin ko d pa xa mature pgdating s relationship! para ngang gusto p nyang gayahin idol nyang si regine n gang ngaun ala p ring love affair. Kung meron mang darating, i just hop it wud be her "pers & last lab". Sarah deserves hapines! ryt?!
M-MEEK
~ meek means mpgpkumbaba & this wud describe her most for all d succes/ achivements she got, still she puts her feet on the ground.
N-NATURAL
~ A character that i most adored of her! even in acting, she acts naturally. It's so nice naman kse to see a person ng walang halong pgpapanggap. And that's sarah!
O-OPO at PO
~ A words that doesn't fades everytym she speaks! Npkgalang lng talaga nya! Naks namn!
P-POPSTAR
~ As she is, that noone can replace! & me as a "popster"..a self proclaimed popster,hehe, d p me member e...
Q-QUEEN
~ For me she's no longer a popstar princess but a "popstar queen" or a "concert queen". pwede ng ilipat ang corona ni Pops kse nakailang concerts n xa at laging successful mp-international man, that means she's a great performer!
R-REST
~ being as famous as sarah is, one doesn't hav this!
S-SMILING
~ Once she's on stage, this will never fades, w/c lights up ur day!
T-TALENTED
~ three-of-a-kind sarah! singer na, actress pa, pati b naman hosting carry nya! At isa png "T" as "tomboyish". Nung bata p daw xa pero ngaun dalagang-dalaga n, lage png nkgown..
U-UNAN
~ this symbolizes as "sandalan".dahil sikat xa,maraming intrigang nkksakit..(kaya gusto ko xang bgyan nito ng maraming-marami para s twing gusto nyang umiyak,may sasalo).Tska pg pagod n xa s daming shows, mkpgphinga xang maayos. Regalo nga pla s knya ni Ai-Ai delas-alas s knya "unan" nung ngdebut si sarah sa asap..
V-VERSATILE
~ She has that versatile voice! khit sinong singer ngagaya nya mp-local man o international. Lalo n kay Celine dion. I can say mas nahigitan p nya! At lalo akong npbilib ng pati boses ni Thalia gayang-gaya nya! Wow(at her very young age)!..no words to say but she's a great singer! d best among d best!
W-WHOLESOME
~ Her most precious character! I just hope she remains on it until she gets old!
X-X-FACTOR
~ Di nya marating ang narating nya ngaun kung wala xa nito! db?!
Y-YOUTHFUL
~ She's still young & fresh! no wonder she's been considered as "youth model".
Z-ZUPER
~ Zuper k talaga Zarah! As in Zuper Zarah!! wala ng mkktalo p sau!!!
VISIT SARAH GERONIMO'S OFFICIAL SITE
[highlight]Visit Sarah's Past PEx Threads [/highlight]
Sarah's Kingdom Thread I – Thread Starter: smiley09
Sarah's Kingdom Thread II – Thread Starter: denisse_smc
Sarah's Kingdom Thread III – Thread Starter: abby_08
Sarah's Kingdom Thread IV – Thread Starter: abby_08
Leave a Comment