Home
›
PEx International Entertainment
›
International TV
How I Met Your Mother
Lauree
PEx Veteran ⭐⭐
'How I Met Your Mother'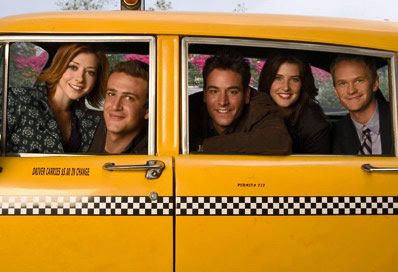 HOW I MET YOUR MOTHER is a comedy about Ted (Josh Radnor) and how he fell in love. It all starts when Ted's best friend, Marshall (Jason Segal), drops the bombshell that he's going to propose to his long-time girlfriend, Lily (Alyson Hannigan), a kindergarten teacher. At that moment, Ted realizes that he had better get a move on if he too hopes to find true love. Helping him in his quest is Barney (Neil Patrick Harris), a friend with endless, sometimes outrageous opinions, a penchant for suits and a foolproof way to meet women. When Ted meets Robin (Cobie Smulders), he's sure it's love at first sight, but destiny may have something else in store. The series is narrated through flashbacks from the future.
---
"Buffy"'s ALYSON HANNIGAN, "Doogie Howser"'s NEIL PATRICK HARRIS and "Freaks and Geeks" star JASON SEGEL return to series TV in the new CBS half-hour comedy "How I Met Your Mother."
Told in flashbacks, "How I Met Your Mother," is a story about how Ted (JOSH RADNOR, "The Court") decides it is time to settle down and find the love of his life. Ted is driven when his best friend, Marshall (Jason) gets engaged to his college sweetheart (Lily, played by Alyson). Neil, as the over-the-top, womanizing Barney, attempts to aid Ted in his quest, but his methods leave a lot to be desired.
The series is based on the lives of Executive Producers CARTER BAYS and CRAIG THOMAS, who met while in college and then worked together on "The Late Show with DAVID LETTERMAN" for almost five years. The Ted character is based on Carter; Marshall resembles Craig, and Lily is loosely based on Craig's wife, REBECCA.
"I didn't meet her until after we started," Alyson says. "So I didn't steal too much from her, but I will. She's awesome. It's really cool to be playing somebody who's alive. I think, I will [borrow from her] until she hates it."
Neil, who plays Barney, an outrageous womanizer, says that the fun aspects of the character are what brought him back to a TV comedy after the less-than-happy experience of "Stark Raving Mad."
"Most of the things I've done have not been the protagonist, but sort of the average guy with all the wacky people around me. So it's fun to be sort of the wacky guy because you get the fun punchlines and the more extreme things to do."
The series also stars COBIE SMULDERS as Robin, who Ted first believes to be his true love, or is she?