Home
›
PEx Local Entertainment
›
Showbiz - Female Celebrities
Discuss your bets and predictions on who will be the next
Miss Universe
. 👑
Our Sassy Girl: Toni Gonzaga- Part 7
sarahshin
PExer
Describe her in so many ways...
That ain't nothing but Toni.
Tinsters!! This is our 6th thread! YEY!!
Part 1:
Toni Gonzaga Part 1
Part 2:
Toni Gonzaga Part 2
Part 3:
Toni Gonzaga Part 3
Part 4:
Toni Gonzaga Part 4
Part 5:
Toni Gonzaga Part 5
Part 6:
Part 6
The top Requests... TINSTERS are asking from TPTB.
1.My Sassy Girl themed movie-parang awa niyo na. --- UTANG NA LOOB... (naman..naman..naman -- singing like Tuesday Vargas )
2. A role in an MMK episode (not HER story but someone else's)
3. Ibalik si Drew.. and ang Drew and Toni moments in Wazzup Wazzup
4. Ibalik ang Wazzup2 sa TFC
5. I-guest sya sa Y-speak at the same time ibalik ninyo ang Y Speak sa TFC.
6. pakantahin pa sa ASAP!
7. More ASAP numbers!! (and show the performances you edited out from the US tour)
8. Repeat ng duet with Christian Bautista
9. Bagong SPRITE commercial with Ness' idea (the spoof of the Coke commercial)
10. Repeat performance of LOVE MOVES but in ASAP.
11. Christina Aguilera songs in MRS.
12.toni to sing MOJOFLY, MYMP and more of SESSION ROAD and KITCHIE songs
13. Horror movie...daw! bwahahaha
So join the insanity of the Brgy. Tinsters!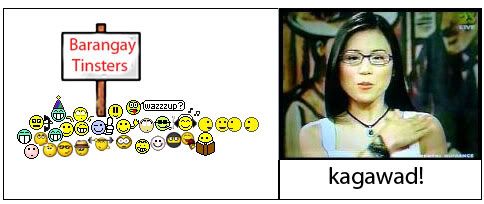 OUR SASSY GIRL- EPISODE 7 .. now signing on...
:glee:
This discussion has been closed.